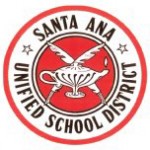 FOR IMMEDIATE RELEASE
Contact: Deidra Powell, Chief Communications Officer, (714) 558-5555, Deidra.Powell@sausd.us
SANTA ANA UNIFIED SCHOOL DISTRICT PROVIDES FREE LUNCHES THROUGH SUMMER FEEDING PROGRAM
SANTA ANA, CA — June 20, 2013 – The Santa Ana Unified School District (SAUSD) will be participating in a free summer lunch program at 47 schools and 8 park sites within the district boundary between June 18th to August 16th.
The federally-funded program operates Monday through Thursday at most schools, with a select number of locations operating Monday through Friday. The program is open to all children ages 1 to 18, no income requirements or registration is necessary, and all participants must eat their lunch at the site.
"Just as learning does not end when school lets out, neither does a child's need for good nutrition." "We understand that for many children in Santa Ana who receive a free and reduced-priced meal during the regular school year, still need a meal to not go hungry. That's why we're there to give it to them every summer." says Mark Chavez, Director of Food Services
For a list of all participating sites, dates, times and additional rules, please see the attached flyer. For more information, call SAUSD's Food Services Department at 714-431-1900, or visit www.sausd.us.
###