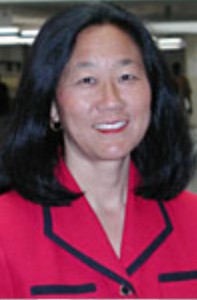 FOR IMMEDIATE RELEASE: August 7, 2014
Contact: Eric Hogensen, 323-761-9514
Santa Ana School Board President Yamagata-Noji Endorses Dr. Rigo Rodríguez for School Board
(Santa Ana) – Current Santa Ana Unified School District Board of Education President, Dr. Audrey Yamagata-Noji announced today that she is endorsing Dr. Rigo Rodríguez for the school board in the upcoming November election.
Dr. Yamagata-Noji stated, "Through my many years of service to the Santa Ana Unified School District, I am keenly aware of the need to have well-educated, community-based individuals to serve on the school board. We have a hard-working and responsive Board but there is still more that needs to be done. As the sixth-largest district in the state, we serve over 57,000 students, so we need Board Members who will be able to understand and address the needs of our students and teachers in the short and long-term."
"That's why I'm endorsing Dr. Rigo Rodríguez to be the next Board member for the Santa Ana Unified School District. As an educator in the field of public policy, Dr. Rodríguez understands how policy affects our students. As a leader and partner of many community organizations serving Santa Ana and Orange County, he is experienced in finding solutions to the problems that our families and children face. He will bring a strong vision and valuable skills to the Board while staying focused on all our students. I am proud to endorse him today."
"I am honored to receive the support of President Yamagata-Noji," said Dr. Rodríguez. "Like her, I believe that the ultimate responsibility of the Board is to ensure that all students have the opportunity to succeed in life by pursuing college and a career, and by being active citizens of the 21st Century."
As a university professor, Dr. Rigo Rodríguez is an inspiring educator, business owner, and Santa Ana resident for almost 20 years. He is currently a member of the Board of Trustees for the Delhi Community Center in Santa Ana, and previously served on the City of Santa Ana's Community Redevelopment and Housing Commission and Planning Commission. Rigo and his wife, Rosalba Hernández, live in Santa Ana with their three children. Nadya, Emilio, and Katya will be entering the first, third, and fifth grade, respectively, at El Sol Science and Arts Academy, a nationally recognized school in Santa Ana. Over the past two years, Dr. Rodríguez has been involved in supporting educational needs of Santa Ana children and has served as president of El Sol's School Site Council.
###