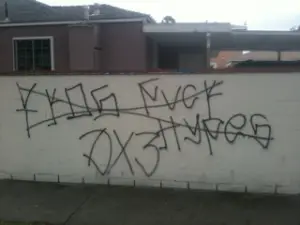 Officers targeted more than a dozen people who police say are affiliated with gangs in a Friday morning sweep, the latest operation in an ongoing effort to combat a recent increase in gang shootings and homicides, according to the OC Register.
The sweep resulted in ten arrests and the cops found 11 grams of methamphetamine and a little less than a gram of heroin.

Crime has shot up since the Santa Ana City Council got rid of the SAPD's STrike Force, with 42 gang-related shootings reported through late May, compared with 25 the previous year. The city has already had seven homicides that police say were gang-related homicides in 2014, two more than in all of last year.
As we have reported previously, even homes in Santa Ana's northern neighborhoods have been burglarized at an alarming rate this year.
Residents are relieved to see the police finally doing something.  Reportedly gang unit officers have been working 7 days a week of late.  That's a lot of overtime.
This increase in crime can most likely be directly traced to the ongoing failure of the Santa Ana Unified School District, which is now allegedly planning on changing their fundamental schools to regular public schools.  That of course is a giant step backwards!