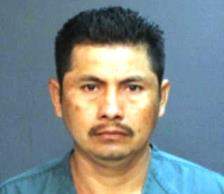 Santa Ana Police Department Advisory: Detectives arrest 42 year old man for lewd acts with minor (13) after they meet on Facebook
On 10/17/13, Santa Ana Police Officers were dispatched to Carr Intermediate to investigate a possible child molestation. The investigation revealed that the now 13-year-old Jane Doe had been "friended" through Facebook by a 42-year-old male when she was age 12. The suspect identified as Manuel Arevalo Parada (Santa Ana) communicated with the victim on Facebook until four months ago. At that time the suspect arranged to discreetly meet with the victim on multiple occasions and engaged in lewd conduct with her over a 3-4 month period.

With the assistance from Child Abuse Detectives, evidence and corroboration was obtained and today 10/18/13, at approximately 0715 hours, the suspect Parada was taken into custody without incident. He has been booked into the Santa Ana Police Department Jail for PC 288 (a) Lewd acts with a minor.
###