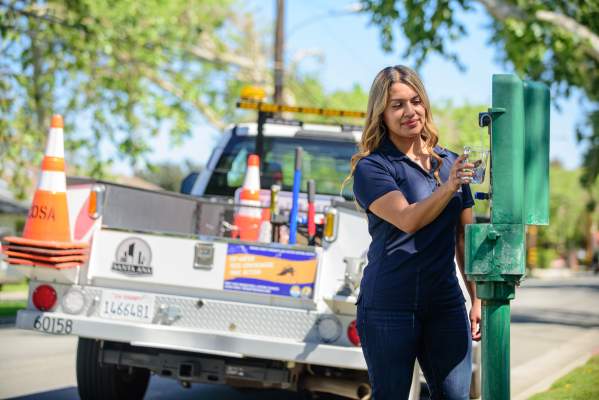 (Santa Ana, CA) June 8, 2021 —The City of Santa Ana announced today it has won the coveted honor of producing some of the best-tasting and highest-quality tap water in the nation, second only to the Metropolitan Water District of Southern California. Santa Ana received this award in the "Best Municipal Water" category at the 31st Berkeley Springs International Water Tasting. The annual competition is the largest and most prestigious in the world, featuring water sourced from 14 countries and 19 states.
"Winning one of the nation's top awards in our category is phenomenal. Winning the award six times over the past 10 years attests to the high standards we set for our tap water and the dedication of our certified specialists who are committed to serving our customers," said Robert Hernandez, Water Services Quality Supervisor for the City of Santa Ana.
Over the past 10 years of participating in the competition, Santa Ana has won six awards including the gold medal in 2018 and 2014 as well as the silver and bronze medals in 2012 and 2011.
This long history of awards reflects Santa Ana's commitment to ensuring a healthy, reliable and safe drinking water supply for residents that exceeds the drinking water health standards requirement by both state and federal agencies.
These standards are outlined in the 2020 Water Quality Consumer Confidence Report, which will become available on July 1 by visiting santaanaccr.org. Residents who prefer a print report can call 714-647-3320 or email info@SantaAnaCCR.org.
Santa Ana's tap water comes primarily from the vast groundwater basin under northern and central Orange County, one of the largest in Southern California providing most of the water needs for 2.5 million people in Orange County. The City of Santa Ana works closely with the Orange County Water District (OCWD), which manages the groundwater basin, to ensure water is not only high in quality, but also a reliable and plentiful source.
Berkeley Springs International Water Tasting
More than 100 people and water officials from the U.S. and abroad attended the water tasting festival in Berkeley Springs, West Virginia. Nine media judges spent hours tasting water sourced in 19 states, three Canadian provinces and 14 foreign countries. Similar to a wine tasting, judges rated the water for each attribute including appearance (should be clear), aroma (should be none), taste (should taste clean), mouth feel (should feel light), and aftertaste (should leave people thirsty for more).
For more information about Santa Ana's water, visit www.SantaAnaCCR.org. For more information about the Berkeley Springs International Water Tasting, visit www.BerkeleySprings.com.
About the City of Santa Ana Public Works Agency
The City of Santa Ana Public Works Agency, with its four divisions and professional staff of more than 200 employees, is responsible for the city's infrastructure and quality of life. The agency builds and maintains all public streets, storm drains, sewers, and water facilities, as well as coordinates refuse collection and recycling, street sweeping, public right-of-way landscaping, and graffiti removal. Through the agency's Water Resources Division, it ensures the community enjoys high quality drinking water. It also ensures the community is able to travel around the city efficiently through the use of a state-of-the-art traffic management system, and collaboration with neighborhood associations and developers to resolve speeding, parking, and traffic problems.