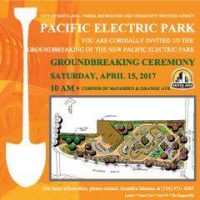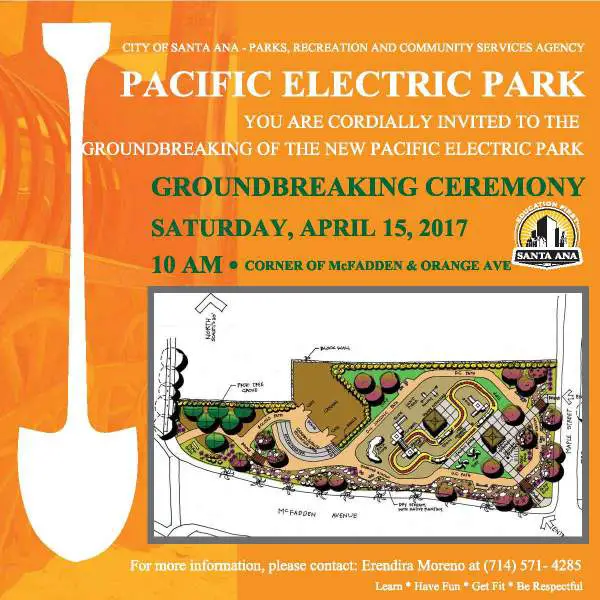 City of Santa Ana, Downtown Orange County
Community: Pacific Electric Park Groundbreaking Ceremony / Ceremonia de Pre-Construcción del Parque Pacific Electric
The dream of a new park in our city will soon become a reality. The public is invited to participate in the groundbreaking ceremony for the new Pacific Electric Park located on the corner of S. Orange Ave. and E. McFadden Ave. The ceremony will take place Saturday, April 15, 2017 at 10:00 a.m. at the park site.
This new park project was made possible thanks to the efforts of the Pacific Electric Park Project Collaborative (PEPPC), a resident driven park initiative that formed in December 2009. The PEPPC is focused on a proactive plan addressing health issues in our community, educating and creating awareness of the consequences of obesity and other serious diseases like diabetes. The collaborative is made up of residents from Wilshire Square, Madison Park, Eastside and Heninger Park neighborhoods, as well as nonprofit organizations, schools and local churches. The collaborative has been working on the development of the Pacific Electric Park (PEP) in an effort to provide a green recreational area for children, seniors and our families in this park poor area of our community.
With an anticipated completion date of December 2017, the new park will be built on the corner of Orange and McFadden Avenue with easy access from Maple and Orange streets. The new park design is themed after the historic Pacific Electric rail line that passed through the area. The park will include a playground, exercise equipment, community garden, restroom, drinking fountain, park benches, trees, native plants and shaded areas.
Take part in the groundbreaking ceremony on this great project that soon will provide the community with a great opportunity to live a happier, active and healthy lifestyle. Light refreshments will be served. For more information, please contact Community Service Supervisor Erendira Moreno at (714) 571-4285 or email emoreno@santa-ana.org.
—————————————————————————————
Ceremonia de Pre-Construcción del Parque Pacific Electric
Pronto se hará realidad el sueño de un nuevo parque en nuestra ciudad. El público está invitado a participar en la ceremonia de pre-construcción del nuevo parque Pacífic Electric que estará ubicado en la esquina de la calle Orange y avenida McFadden. La ceremonia se llevará a cabo sábado, 15 de abril del 2017 a las 10:00am en el terreno del parque.
Este nuevo proyecto del parque ha sido posible gracias a los esfuerzos de la colaborativa Pacific Electric Park Project (PEPPC por sus siglas en Ingles), una iniciativa de parque conducida por residentes formada en diciembre del 2009. La PEPPC se centra en un plan de salud proactivo enfocado en problemas de salud, educar y crear conciencia de las consecuencias de la obesidad y otras enfermedades graves como la diabetes en nuestra comunidad.
La colaborativa está conformada por los residentes de los vecindarios Wilshire Square, Madison Park, Eastside y Heninger Park, así como de organizaciones sin fines de lucro, escuelas y las iglesias locales. La colaborativa ha estado trabajando en el desarrollo del parque Pacífic Electric (PEP) en un esfuerzo para proporcionar un área verde de recreación para los niños, ancianos y nuestras familias en esta zona pobre en parques de nuestra comunidad. Con una fecha de finalización anticipada para diciembre del 2017, el nuevo parque será construido en la esquina de la calle Orange y avenida McFadden con fácil acceso desde las calles Orange y Maple. El tema de diseño del nuevo parque es basado en la histórica línea de ferrocarril Pacífic Electric que pasaba por la zona. El parque incluirá área de juego infantil, equipo de ejercicio, jardín comunitario, baño, fuente de agua potable, bancas de parque, árboles, plantas nativas y áreas sombreadas.
Participe en la ceremonia de pre-construcción de este magnífico proyecto que pronto proporcionara a la comunidad una gran oportunidad para vivir una vida más feliz, activa y saludable. Se servirán aperitivos ligeros. Para obtener más información, póngase en contacto con la Supervisora de Servicios Comunitarios Erendira Moreno al (714) 571-4285 o Emoreno@santa-ana.org.