Community: Garage Sale Weekend – March 9th & 10th

It's Garage Sale Weekend!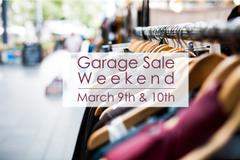 Garage sales for residential properties are typically permitted on the first full weekend of March, June, September, and December each year.
Due to inclement weather, March's Garage Sale Weekend will be March 9th & 10th. No permit is required.
Regulations for residential garage sales include:
• Sales may only occur on Saturday and/or Sunday
• Sales may begin at 8:00 a.m. and must end at 5:00 p.m.
• Items sold may not be displayed on the public sidewalks,
parkways, streets or alleys
• Items sold must be used goods, from your household, and not
purchased for resale
• Signs may NOT be posted on telephone poles, public street
lights, traffic signs, or on any structure in the public right-of-way
(Signs posted illegally will be removed and a fine may be mailed to
the responsible party)
• Signs may be posted one week before the sale weekend
• Signs must be taken down one day after the last date of your sale
Persons conducting sales on any unauthorized weekend or violating any of the above regulations will be subject to an Administrative Fine or a misdemeanor citation.
For additional information call Code Enforcement at (714) 667-2780