"Six Orange County school districts have won the prestigious 2009 Golden Bell Award, sponsored by the California School Boards Association," according to the O.C. Register.
Santa Ana Unified School District: Chavez High School won for its Positive Results in Daily Effort program that improved student attendance, reduced drop-out rates and encouraged student punctuality, accountability and determination.
Congratulations to everyone at Chavez High School, particularly Principal Margarita Rosette and her teachers!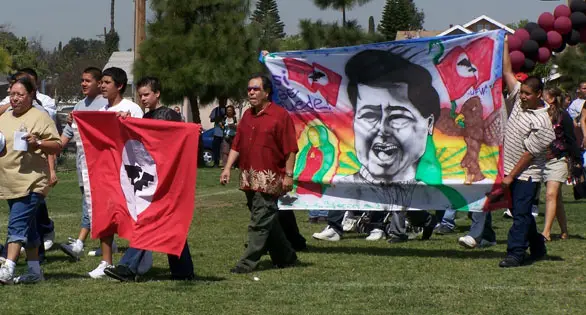 8th Annual Cesar Chavez celebration at Chavez High School
Golden Bell Award winners will receive special recognition at an awards luncheon on Saturday, December 5, 2009, in San Diego. The event is held in conjunction with CSBA's Annual Education Conference.
Golden Bell winners will also be invited to lead a one-hour Golden Bell Showcase discussion about their program at the conference on Saturday morning from 9:30 a.m. to 10:30 a.m.