I finally got around to reading the Santa Ana Zoo's press release regarding the cancellation of their elephant rides.  Wow.  Zoo officials showed absolutely no remorse at all in a release that stated that the rides are ending not because of the allegations of abuse of the elephants (see the shocking video above), by the company, Have Trunk Will Travel, that provided the pachyderms,and not because of PETA's ongoing protest of the rides, but rather because of a "recent safety policy change by the Association of Zoos and Aquariums (AZA)."
In fact Santa Ana Zoo Director Kent Yamaguchi told the L.A. Times that "I still think elephant rides are an amazing way for people to learn about the animals through hands-on contact."  Bull!  They were all about charging ridiculous prices – at least $5 per ride!  How many working families in Santa Ana could even afford that in the first place?  The elephant rides always were a fundraising scheme for the Santa Ana Zoo.  Trying to say that they were about education is simply ridiculous.  What the heck can you learn from a two minute five dollar ride on an elephant?
Santa Ana Zoo officials would have us believe that after 25 years of offering elephant rides, it all came to an end because  "Elephants are strong and powerful animals and the AZA recently instituted a new safety policy to protect elephant trainers from potential harm."
The Zoo's press release also offered that other zoos in the area now have opened new elephant exhibits with this type of zookeeper safety protection in place, which makes me wonder if the Santa Ana Zoo would still be offering elephant rides if they could afford to set up this alleged protection?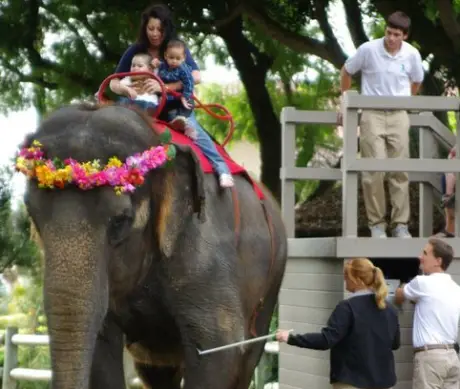 Now think about this – the Zoo is saying that they are concerned about elephant trainers being harmed – what about the poor kids riding these humongous beasts?  Just Google "Elephants" and "Berserk" and see how many hits you get.  These animals have been domesticated in third world countries for centuries but they are still capable of going nuts and killing people.  Not to mention the risk of falling off the beasts in the first place – look at the picture above.  Those kids don't even look secure!
And what about the many diseases you can get from elephants, including rabies, tuberculosis, salmonellosis, and tetanus?  Why in the world would anyone want to expose zoo trainers and kids to all those microbes?
Here's what I want to know – who is to blame for these rides?  Was this set up by the City of Santa Ana or by the Friends of the Santa Ana Zoo – a private organization that allegedly charges their 26 board members (only two of which are minorities) as much as $5,000 to join their board?  I am guessing it was the latter – and if so why did they take so darn long to answer PETA's demands to end the stupid rides?  I won't bother asking them as they never respond to my emails.  I am just glad the rides are done and over with – but this decision should have been made a long time ago.
By the way, don't think this ride issue is over yet.  The Santa Ana Zoo is still offering $5 camel rides.  That too needs to end!