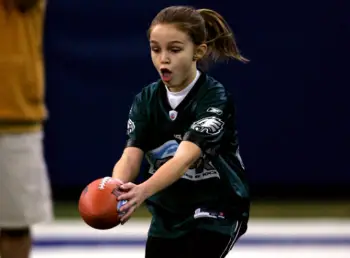 City of Santa Ana, Downtown Orange County
Community: 2016 NFL Punt, Pass and Kick Competition – Competencia de Patear, Pasar y Tiro al Arco de la NFL 2016

SANTA ANA, CA – The City of Santa Ana's Parks, Recreation and Community Services Agency's Youth Sports Program is proud to be a host site for the 2016 Punt, Pass & Kick (PP&K) competition. The PP&K is the official youth skills competition of the National Football League (NFL). This program is designed to provide youngsters with an opportunity to participate; free of charge, in a competition that recognizes individual excellence in three core football skills.
The competition will take place on Sunday, October 16, 2016 between 9:00 a.m. and 12:00 p.m. at Santa Ana Stadium, located at 602 N. Flower Street, Santa Ana, 92702. Boys and girls ages 6 to 15 are invited to enter the competition. Participants will be divided into five age divisions: 6/7, 8/9, 10/11, 12/13 and 14/15. All necessary equipment will be provided.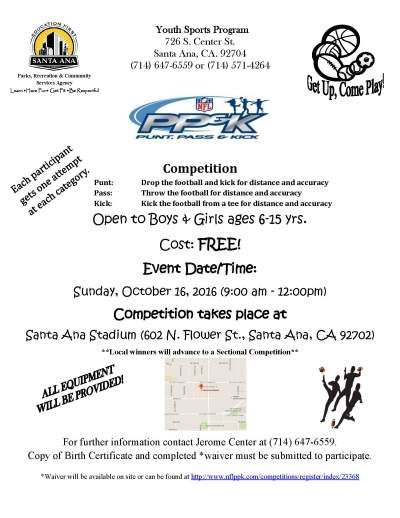 Participants will compete in the following three areas. Punt: kick the football for distance and accuracy, Pass: pass the ball for distance and accuracy, Kick: kick the ball from a tee for distance and accuracy.
Once local competitions have completed all competition winners will advance to the sectional level with the ultimate opportunity of advancing to the 2016 National Championships at the Pro Bowl in Orlando, Florida.
Participants must bring a copy of their birth certificate and have their parent or guardian fill out a registration/waiver form prior to the start of the competition. For questions concerning the competition please contact your Local Coordinator at 714-647-6556.
—-
SANTA ANA, CA – La Agencia de Parques, Recreación y Agencia de Servicios Comunitarios de la Ciudad de Santa Ana y el Programa de Deportes Juveniles se enorgullece de ser anfitrión de la Competencia de Patear, Pasar y Tiro al Arco de la NFL 2016 (PP&K). El PP&K es la competencia de habilidades oficial de la Liga Nacional de Fútbol Americano (NFL). Este programa está diseñado para proporcionar a los jóvenes la oportunidad de participar, de forma gratuita, en una competencia que reconoce la excelencia individual en tres habilidades básicas de Fútbol Americano.
La competición tendrá lugar el Domingo, 16 de Octubre del 2016 entre las 9:00am y 12:00pm en el Estadio de Santa Ana, ubicado en el 602 N. Flower Street, Santa Ana, 92702. La competencia está abierta a niños y niñas de 6 a 15 años de edad. Los participantes serán divididos por edad en cinco divisiones: 6/7, 8/9, 10/11, 12/13 y 14/15. Se proporcionara todo el equipo necesario.
Los participantes competirán en tres áreas de habilidades. Patear(Punt): patear la pelota para distancia y precisión, Pasar(Pass): pasar la pelota para distancia y precisión, Tiro al Arco(Kick): patear la pelota sobre un soporte para distancia y precisión. Todos los participantes tendrán la oportunidad de avanzar a través de diversos niveles de competencia, incluyendo el Campeonato Nacional de PP&K, que tendrá lugar durante el partido Pro Bowl que se llevara a cabo en Orlando, Florida.
Los participantes necesitan traer una copia de su certificado de nacimiento y los padres o tutores necesitan llenar un formulario de registro/absolución de daños antes del inicio de la competencia. Si tiene preguntas sobre la competencia, por favor póngase en contacto con nuestro Coordinador Local al 714-647-6556.