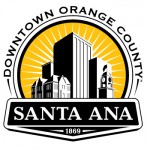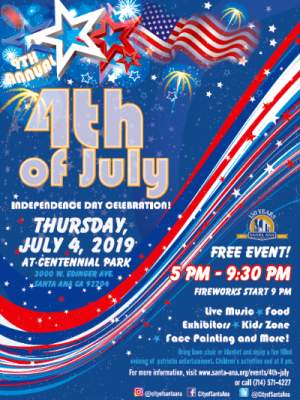 SANTA ANA, CA – The City of Santa Ana's 9th Annual Fourth of July Celebration will be taking place on Thursday, July 4, 2019 from 5:00 p.m. to 9:30 p.m. at Centennial Regional Park. This free community event will include live music, kid's activities, food trucks, exhibitors, and a spectacular fireworks finale.
This year, live music will be provided by the Chico Band. Having entertained audiences for the past thirty -five years, this five member group attributes their success to their unique harmonies and diverse song list. Playing a wide range of hits from big band, salsa, and swing, to merengue, cumbias, and rock, Chico Band is sure to have everyone on their feet!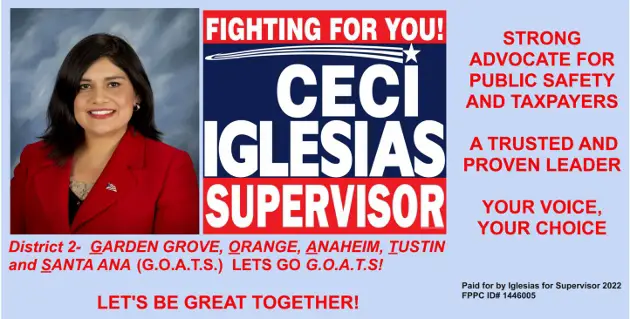 Centennial Park is located at 3000 West Edinger Avenue in Santa Ana. Onsite event parking is available. Guests are encouraged to arrive early and bring a lawn chair and blanket. Food will be avai lable for purchase. A spectacular fireworks finale beginning at 9:00 p.m. will conclude the festivities.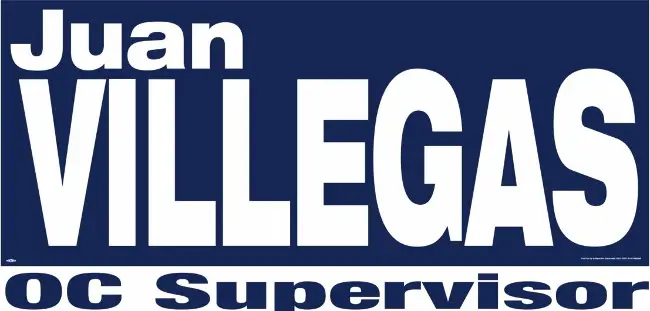 For more information on the Fourth of July Celebration, visit www.santa-ana.org/events/4th-july or call the Special Events Office at (714) 571-4227.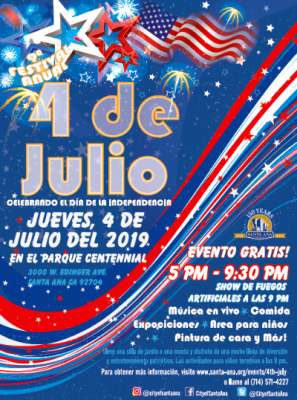 9ª Celebración Anual del Cuatro de Julio en Santa Ana
SANTA ANA, CA – La Celebración del Cuatro de Julio se llevara a cabo por 9ª ocasión en la Ciudad de Santa Ana el jueves, 4 de Julio del 2019 de 5:00 p.m. a 9:30 p.m. en el Parque Centennial. Este evento anual celebrara el Día de la Independencia de los Estados Unidos con un programa patriótico, música en vivo, zona juvenil, sabrosa comida, expositores, y un espectacular show de fuegos artificiales.
Este año, la música en vivo estará a cargo de la Banda Chico. Durante los últimos treinta y cinco años que ha deleitado a audiencias, esta agrupación de cinco miembros atribuye su éxito a sus armonía s únicas y diversa lista de canciones. Tocando una amplia gama de éxitos de big band, salsa y swing, merengue, cumbias y rock, el grupo Chico es seguro de poner a todos de pie!
Para finalizar las festividades, un espectacular show de fuegos artificiales tendrá lugar a las 9:00 p.m. Se le recomienda al público llegar temprano, traer una silla, manta, canasta de picnic y disfrutar de las actividades y entretenimiento patriótico antes que comiencen los fuegos artificiales.
El Parque Centennial está ubicado en el 3000 West Edinger Avenue en Santa Ana. Para obtener más información sobre la celebración del Cuatro de Julio, visite www.santa-ana.org/events/4th-july o llame a la Oficina de Eventos Comunitarios al (714) 571-4227.