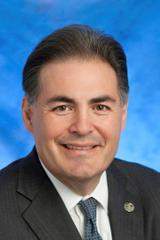 City of Santa Ana, Downtown Orange County
Community Alert: City of Santa Ana Poised to Hire New City Manager
David Cavazos Served as City Manager for Phoenix; Helped Trim Budget, Revitalized Downtown
SANTA ANA, CA (August 1, 2013) – The Santa Ana City Council is unanimously poised to hire a city manager with over 25 years of experience and a proven record of success. The top candidate, David Cavazos, who in his current capacity as the City Manager of Phoenix, trimmed the city's budget, streamlined its permitting process for businesses and helped revitalize its downtown area, is being considered for the city manager position.
The City Council will review and vote on his employment package on Monday, August 5, 2013, at the next City Council meeting. If approved, Cavazos will take over as Santa Ana's top executive in mid-October.
"David's stellar performance and success in Phoenix is well documented and we are very grateful that he has agreed to lend his experience and expertise to help guide Santa Ana to a wonderful future," stated Mayor Miguel Pulido.
The City went through an extensive recruitment process that resulted in 64 applicants for the job. Cavazos stood out, in part, because of his position in Phoenix, which is the nation's largest city to retain a council-manager form of government. In that form of government, a strong city manager supervises all city departments and executes policies adopted by the council.
In addition, Cavazos' resume is impressive as his experience stems from the top management position of the nation's sixth-most populous city with about 1.5 million people. In Phoenix, Cavazos was responsible for managing a $3.6 billion budget and overseeing nearly 15,000 employees. He helped launch a major fiscal turnaround, resulting in a structurally balanced budget in just two years.
Mayor Pro Tem Sal Tinajero commented, "His [David Cavazos'] experience of playing a key fiscal role in such a large city can only bode well for the entire Santa Ana community. David's tested and proven experience will undoubtedly keep our city moving in a positive direction and will increase our future stability."
The Santa Ana City Council recently approved a two-year spending plan that keeps the city coffers balanced while providing core services. In addition, the city is embarking on a strategic plan that will guide its growth over the next five years, and will identify critical community priorities and operational efficiencies and needs.
Cavazos' hiring is the second key position filled by the current City Council in the last 16 months. The city council hired Sonia Cavalho as the city attorney in April 2012.
"The City of Santa Ana is an amazing opportunity," said Cavazos. "I am eager to work with the Santa Ana Mayor and City Council, fellow employees and the community to build on the city's successes and realize the full potential moving forward."
Cavazos, 53, was appointed as City Manager of Phoenix in 2009, becoming the first Hispanic to hold the post. He joined the city in 1987 as a management intern, and worked his way up. He became Economic-Development Manager from 1991 to 1997, and served as Deputy Director of the Aviation Department from 1998 to 2000, and as Assistant Aviation Director from 2001 to 2003. Cavazos served as Acting Aviation Director from 2004 to 2005 before becoming Deputy City Manager, when he worked on a number of diverse and important city issues including development of the $250 million Arizona State University downtown campus, a water strategy, neighborhood revitalization, urban planning and information technology.
In addition, Cavazos participated in several philanthropic activities, including scholarships for underprivileged students and helping the city's pediatric hospital with its expansion.
Cavazos, a Chicago native, earned a master's degree in management and public policy from Carnegie Mellon University and a bachelor's degree in political science from Western Illinois University.
For further details regarding this agenda item, refer to http://www.santa-ana.org/coc/documents/agenda.pdf
###
For full details, view this message on the web.