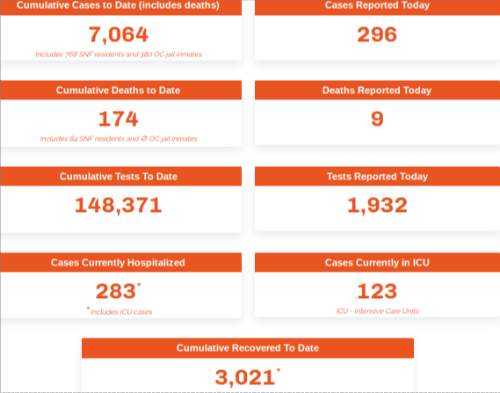 The OC Health Care Agency reported a total of 7,064 confirmed cases of COVID-19 in Orange County and 1,386 cases in Santa Ana, on June 5. The Santa Ana case numbers don't include infected inmates in County jails.
There were 296 new cases reported on June 5, in Orange County. Nine new deaths were reported. To date 174 victims have died in Orange County. There are currently 283 victims in local hospitals and 123 of them are in Intensive Care Units. To date an estimated 3,021 victims have recovered.
The California Department of Public Health reported 122,901 confirmed cases and 4,485 deaths.
The CDC reports these national cases:
TOTAL CASES: 1,862,656
20,555 New Cases
TOTAL DEATHS: 108,064
1,035 New Death*
Here is how other major cities in Orange County are faring:
Anaheim reports 1,248 cases
Huntington Beach reports 359 cases
Garden Grove reports 394 cases
Orange reports 309 cases
Irvine reports 215 cases
Buena Park reports 191 cases
Newport Beach reports 151 cases
Fullerton reports 231 cases
Westminster reports 159 cases
Tustin reports 119 cases
Costa Mesa reports 137 cases
Fountain Valley reports 70 cases
Your Actions Save Lives
Every person has a role to play. Protecting yourself and your family comes down to common sense:
Staying home except for essential needs/activities following local and state public health guidelines when patronizing approved businesses. To the extent that such sectors are re-opened, Californians may leave their homes to work at, patronize, or otherwise engage with those businesses, establishments or activities.
Practicing social distancing.
Wearing a cloth face mask when out in public.
Washing hands with soap and water for a minimum of 20 seconds.
Avoiding touching eyes, nose or mouth with unwashed hands.
Covering a cough or sneeze with your sleeve, or disposable tissue. Wash your hands afterward.
Avoiding close contact with people who are sick.
Staying away from work, school or other people if you become sick with respiratory symptoms like fever and cough.
Following guidance from public health officials.

What to Do if You Think You're Sick
Call ahead: If you are experiencing symptoms of COVID-19 (fever, cough or shortness of breath), call your health care provider before seeking medical care so that appropriate precautions can be taken. More than 90 community testing sites also offer free, confidential testing: Find a COVID-19 Testing Site.
For more information about what Californians can do to prevent the spread of COVID-19, visit Coronavirus (COVID-19) in California.
California continues to issue guidance on preparing and protecting California from COVID-19. Consolidated guidance is available on the California Department of Public Health's Guidance web page.