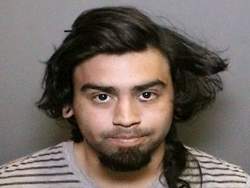 Juan Angel Rivera, 23, a Santa Ana resident who stabbed a fellow concertgoer, Nathan Alfaro, (a 23-year old resident of Westminster) to death during a March 2016 punk show at the Underground DTSA was convicted Monday of manslaughter, not murder, after jurors found that he acted in the heat of the moment, according to the O.C. Register.
Rivera is still looking at a prison term of up to 12 years. But if he had he been convicted of first-degree murder he could have ended up in prison for 26 years to life. Most likely he will not serve a full term as the State of California routinely lets inmates out of prison early.
Rivera was found guilty of manslaughter but the jury acquitted him of the more serious first- and second-degree murder charges.
Rivera got into a fight with Alfaro when the latter became upset because Rivera was trying to start a mosh pit during a concert. Audience members broke up the fight but then Rivera tried again to start a mosh pit and another fight ensued. This time Alfaro ended up on top of Rivera and Rivera ended up stabbing Alfaro to death.
Rivera's public defender, Alison Worthington, argued that Rivera stabbed Alfaro because he was being pummeled, was unable to breathe and he thought he was going to die.
The OCDA tried to make the case during the trial that Rivera had provoked the second fight on purpose in order to stab Alfaro.
Laena Geronimo, vocalist/guitarist for Feels, says the suspect was definitely pissing off the the crowd with his one-man  mosh pit while the second band Ghali was playing and was even attacking people on the outskirts of the room away from the band. "Not moshing in a punk way," Geronimo says. "More like 'this is my excuse to fuck people up' kinda style," according to the O.C. Weekly.
Underground DTSA is located at 220 E. Third St. in Downtown Santa Ana. The promoter of the punk rock concert where Alfaro was killed was a company called Top Acid. Underground DTSA is located under Festival Hall, which is allegedly owned and managed by the family of Santa Ana Councilman Vince Sarmiento.
Rivera will be sentenced at another hearing on July 14.