ORANGE COUNTY DISTRICT ATTORNEY NEWS RELEASE
Case # 15CF2502
Date: February 22, 2017
DRIVER UNDER THE INFLUENCE OF NARCOTICS CONVICTED AND SENTENCED TO 15 YEARS IN PRISON FOR HIT-AND-RUN CRASH THAT KILLED PEDESTRIAN SITTING ON SIDEWALK
SANTA ANA, Calif. – A driver under the influence of narcotics was convicted and sentenced to 15 years in state prison yesterday for hit-and-run crash that killed a pedestrian sitting on a sidewalk. Ramon Horta, 56, Santa Ana, pleaded guilty to one felony count of vehicular manslaughter with gross negligence while intoxicated with a sentencing enhancement for fleeing the scene of the crime. The defendant was also ordered to pay restitution and his driver's license was suspended for three years.
At approximately 1:10 p.m. on Nov. 3, 2015, Horta drove a van while under the influence of narcotics, traveling at approximately 30 mph while approaching the intersection of McFadden Avenue and Cedar Street in Santa Ana. The defendant slowly veered the van to his right and drove over a curb onto the sidewalk. The defendant hit and ran over 24-year-old Marcello Bisarello, who was sitting on the sidewalk.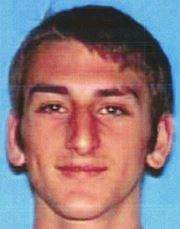 Horta tapped his brakes and looked out his rear window before continuing to drive eastbound on McFadden Avenue at the same speed. A good Samaritan called 911, followed the defendant's vehicle, and caused the defendant to pull over approximately half a mile from the scene of the crash.
The victim died at the scene from injuries he sustained in the crash. The Santa Ana Police Department, who investigated this case, arrived to the scene and arrested Horta.
Senior Deputy District Attorney Mark Birney of the Homicide Unit prosecuted this case.
###
TONY RACKAUCKAS, District Attorney
Susan Kang Schroeder, Chief of Staff
Office: 714-347-8408
Cell: 714-292-2718
Public Affairs Unit
Office: 714-347-8405