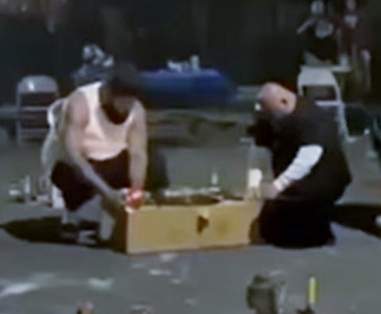 On July 4th, 2021 at 11:30 PM, Garden Grove police officers were dispatched to the 13800 block of Rosita Pl., regarding a large firework explosion that caused windows to be blown out from an apartment complex and vehicle.
Upon arrival, they located multiple injured parties and secured the scene until the OCSD Bomb Squad could arrive.
An 8-year-old child was transported to a local hospital with a severe injury to his eye and burns to his body. Five additional children were treated by medics at the scene for non-lethal injuries.
While at the hospital, officers discovered three additional victims had transported themselves there.
Detectives conducted follow up and were able to identify Frank Lazcano Lopez (46-years-old, of Santa Ana) as being involved in setting off the illegal fireworks that injured nine people, and damaged several apartments and vehicles. Lopez was arrested today and booked into Orange County Jail for igniting a destructive device, causing injury.
This investigation is on-going. Anyone with information regarding the firework explosion is asked to contact Detective Heine at 714-741-5422.