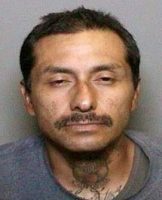 Jorge Hugo Molina , a 39-year old Santa Ana man, is facing kidnapping and domestic violence charges after police say he dragged a woman into a vehicle, according to the O.C. Register.
On Sunday, 6-18-17, Fountain Valley police officers responded to a possible kidnapping and domestic violence incident in the 16000 block of Harbor Blvd.
Several witnesses reported a male suspect assaulted a female victim at the business and dragged her into a dark colored Saturn SUV which fled northbound on Harbor.
The Fountain Valley Detective Bureau was notified and conducted a follow up investigation. Through their investigation, the Detective Bureau and Patrol Officers located the vehicle near the 11700 block of Westminster Ave., in Garden Grove.
The vehicle was still occupied by the suspect and victim who were detained at the scene. The suspect, Jorge Hugo Molina, a 39 year old male from Santa Ana, was restrained from the victim for previous domestic violence incidents.
Molina was arrested for PC 207-Kidnapping and PC 243(e)(1)-Domestic battery and held on a $100,000.00 Bail at Orange County Jail. Incident# 17- 23511