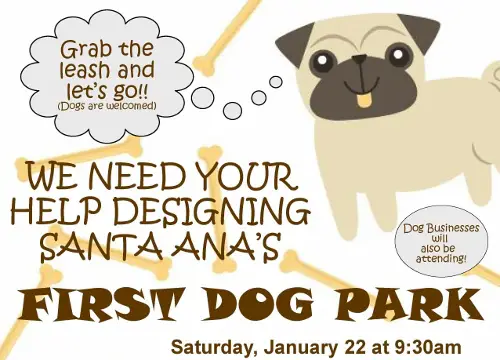 Santa Ana City Councilman David Penaloza posted good news on his Facebook page today:
On December 3rd 2019, I along with then Councilmember Iglesias placed the following item on the city council agenda:

"Discuss and consider directing the City Manager to direct staff to study the feasibility of a Dog Park."

I'm extremely excited to announce that after three years of advocacy on my behalf and many years of tireless advocacy from many dog loving neighborhood leaders, it is finally happening! During the 21/22 budget cycle, the city council as part of the Capital Improvement Projects approved the allocation of $1.1 MILLION for the design and construction of Santa Ana's 1st Dog Park!

The days of having to take our dogs to the Costa Mesa, Irvine, and Fullerton dog parks are OVER!

I along with the Parks and Rec and Public Works departments invite all of you dog lovers to join us next Saturday January 22nd at 9:30 am at Centennial Park to help us design it. Leash them up and bring the doggies!
The volunteers who show up on Jan. 22 will be asked to park at the Centennial Park Administration Center adjacent to the parking lot off Centennial Road as seen in this map of Santa Ana's future Dog Park at Centennial Park: