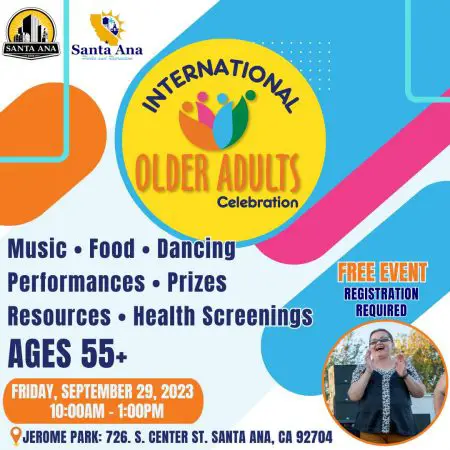 The Santa Ana Parks and Recreation Senior Services section invites the older adult community to come together and join us for our International Older Adults Celebration on Friday, September 29, 2023!
This free event will take place at Jerome Park, located at 2115 W McFadden Ave. and will be open to everyone ages 55+. Registration is required for this event, please reserve your spot today. We look forward to celebrating with you all.
Guests can enjoy a number of festivities and activities including:
Food
Prizes
Performances
Music and dancing
Senior resources
Health screenings
And more!
Thank you to BJ's Restaurant & Brewhouse for supporting Santa Ana's International Older Adult Celebration and partnering with us to bring our seniors a special lunch service during the event.
The City of Santa Ana proudly offers a variety of recreational activities to seniors, ages 55+. Their centers provide a space for seniors to come together and make new friends, stay active, and build an even greater sense of community. Services and experiences are intentionally designed to support seniors and encourage active lifestyles. Registration is open in-person at each center, and is required to participate in recreation, educational, and fitness activities.
The Senior Centers are open Monday through Friday from 8:00am to 5:00pm. Activity information can be found at each individual center. If you have questions or want to learn more, contact the Santa Ana Senior Center at (714) 647-6540 or the Southwest Senior Center at (714) 647-5306.
Click here for more info on Santa Ana resources and services for seniors.