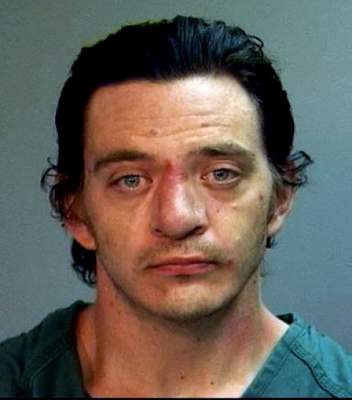 SANTA ANA, California – A multi-convicted felon who led law enforcement on a 90-minute car chase throughout Orange County earlier this week has been charged with being a felon in possession of a firearm.
 Andres Alexander Rivero, 41, of Santa Ana, who was on probation in a state court case and previously served time in federal prison, was charged in a federal criminal complaint filed Tuesday. He will make his first appearance in federal court this afternoon.
On Monday afternoon, the Bureau of Alcohol, Tobacco, Firearms and Explosives (ATF) Orange County Violent Crime Task Force (OCVCTF) was conducting surveillance when they observed a white Chevy van circling in a residential area. Law enforcement determined the van was stolen and attempted a traffic stop at the intersection of Midway Drive and Dickel Street in Anaheim.  
The driver, Rivero, failed to stop. He instead started driving erratically at dangerously high speeds to evade law enforcement. Rivero led authorities on a pursuit through Orange County at times traveling on the 22 Freeway and the 405 Highway.
According to the affidavit filed with the complaint, at one point a .40-caliber pistol was thrown from the van, and the passenger jumped out of the vehicle. The ATF OCVCTF immediately recovered the firearm. The passenger was detained and later released.
After Rivero exited the freeway, he drove on surface streets throughout Costa Mesa and into Garden Grove. Rivero stopped the van near the intersection of Harbor Boulevard and Garden Grove Boulevard in Garden Grove. Rivero exited the van and was taken into custody without further incident.
Rivero was previously convicted of criminal threats with intent to terrorize in November 2006; felon in possession of a firearm in January 2007; felon in possession of a firearm in January 2011; possession of a controlled substance and possession of a concealed dagger in April 2014; felon in possession of a firearm and bringing a controlled substance into prison in September 2016; and unlawfully taking a vehicle along with identity theft in May 2020.
The ATF OCVCTF is comprised of special agents from ATF, and detectives from Brea Police Department and Fullerton Police Department. The task force successfully investigates and identifies suspects responsible for violent crimes throughout Orange County.
This case will be prosecuted by Assistant United States Attorney Benjamin Lichtman of the Santa Ana Branch of the United States Attorney's Office.