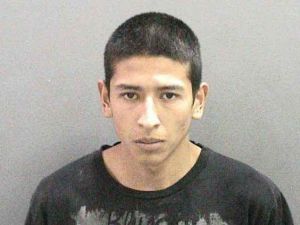 Booking Photo of Christian Trinidad Gonzalez courtesy of the O.C. District Attorney's office
TONY RACKAUCKAS, District Attorney
ORANGE COUNTY DISTRICT ATTORNEY PRESS RELEASE
FOR IMMEDIATE RELEASE: Date: July 19, 2011
Susan Kang Schroeder, Office: 714-347-8408, Cell: 714-292-2718
Chief of Staff Farrah Emami, Spokesperson, Office: 714-347-8405, Cell: 714-323-4486
Case # 09CF0705: FATHER FACES TRIAL FOR MURDERING 2-MONTH-OLD BABY DAUGHTER BY THROWING AND SHAKING HER
SANTA ANA – A father faces trial today for murdering his 2-month-old baby daughter by throwing her onto a couch and shaking her in his Santa Ana apartment. Christian Trinidad Gonzalez, 25, Santa Ana, is charged with one felony count of murder and one felony count of assault on a child with force likely to produce great bodily injury resulting in death. If convicted, Gonzalez faces a maximum sentence of 25 years to life in state prison. Opening statements are expected to begin this morning, Tuesday, July 19, 2011, in Department C-40, Central Justice Center, Santa Ana.on
On March 17, 2009, Gonzalez is accused of returning to his home in Santa Ana from work and having dinner with his family.
After dinner, his wife and 2-year-old daughter walked to a laundry room in the apartment complex. Gonzalez stayed to care for his 2-month-old daughter, Iliana, and is accused of becoming frustrated when she began to cry. He is accused of violently throwing her onto a couch and then shaking the baby after realizing that she was not breathing.
Iliana never regained consciousness and was transported to the St. Joseph Hospital of Orange. Doctors contacted the police after examining the baby and finding injuries consistent with abusive head trauma, including significant bleeding inside her head, severe retinal hemorrhages in both eyes, and brain swelling. Iliana was kept on ventilators for two days before being declared dead March 19, 2009.
Senior Deputy District Attorney Steve McGreevy of the Homicide Unit is prosecuting this case.
###
www.orangecountyda.com • 401 Civic Center Drive West, Santa Ana, CA 92701