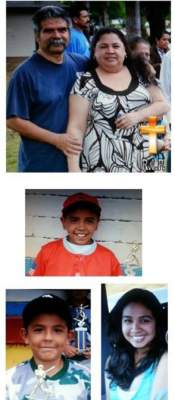 UPDATE: Click here to watch an updates news video report by Fox News.
My wife and I drove the kids to New Mexico this summer for our annual family vacation.  We visited the Carlsbad Caverns and stopped in Tucson and Tombstone along the way and on the way back.  It was a very long drive and along the way we passed a semi truck that flipped on its side.  I thought of this as I read about the tragic accident that took the life of a Santa Ana mother and father, Martin Saldana, 50, and Adela Santana, 46, on Saturday, August 10, 2013.  This could very well have happened to us!
According to a Luna County Sheriff's Office report, Saldana lost control of her family's vehicle and struck a guard rail. Saldana then over-corrected the vehicle, causing the vehicle to go airborne. The vehicle proceeded to roll over numerous times in the median, as reported by the Deming Headlight.Officials extricated Adela and Martin Saldana, 50, who were sitting in the front seats, and airlifted them to University Medical Center of El Paso, in El Paso, Texas. The children, Oscar Saldana, 7; Martin Saldana Jr., 10; and Karina Saldana, 18; were taken to Mimbres Memorial Hospital with their grandmother Guadalupe, whose age and last name were not included in the report. Saldana died from her injuries at the hospital; each of the other passengers was listed in critical condition, officials said, according to the O.C. Register.  Click here to watch an NBC News video about this tragic accident.
As you can imagine this family is really suffering right now and they need our help. As it turns out, this family was very much involved in Santa Ana's Little League community, specifically the Southwest Little League.  Here is what a member of that league posted on their Facebook page:
ATTENTION SOUTHWEST BASEBALL FAMILIES, TEAM MANAGER, COACHES, PLAYERS AND FRIENDS If you haven't already heard, there was a tragedy with-in our Baseball Community. Two of our players who are brothers, AA ANGELS MARTIN SALDANA Jr. and MACHINE PITCH PADRES OSCAR SALDANA lost their parents last Saturday in a horrible and tragic accident which also injured them, their sister, and grandmother. We as a community are coming together to help them by putting together an event on Friday August 23. This event will consist of selling various foods in order to raise money to help the Saldana Family.
They are in real need of financial resources. We ask for your participation and or assistance by either providing food and or assistance with any money that you can donate so that we can buy supplies for the event. We also ask that if at all possible you attend the event and pass the word around to family, friends, and co-workers. Any contribution you can make will be of great help and greatly appreciated! If you have any questions or concerns please feel free to contact us ASAP! Again thank you all! Moises Vasquez manager Padres (626) 625-1744 Barbara Favreu team mom (714) 478-1126 Here is the event flier:
This fundraising event is set for this Friday, August 23, 2013, starting at 3 pm until folks stop showing up.  The Fundraiser will be held at Santa Ana's Memorial Park, which is located on Flower St., just north of Warner Ave.  Here is additional information about the Saldana Family and the fundraiser:
A car wash will be held from 10 a.m. to 2 p.m. Saturday, followed by a hamburger, hot dog and potluck sale from 2 to 7 p.m. in the 1800 block of South Ross Street. The potluck includes pozole, enchiladas, tacos and quesadillas.  Drive-by donations will be collected throughout the day, according to the O.C. Register.
Checks should be made to the Lorri McPeck-Saldana Children Fund. Those interested can make a deposit directly into the savings accounts at Santa Ana Federal Credit Union, 800 W. Santa Ana Blvd. For more information, contact Kim and Lorri McPeck at 714-835-3299 or Ana and Juan Iniguez at 714-325–0964.