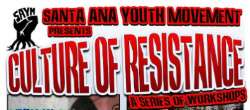 Santa Ana: Culture of Resistance, A Series of Workshops presented by Santa Ana Youth Movement, begin on July 25, 26, 28, 30, 31 Monday,Thursday 2-4pm; Saturday 6pm; Sunday 1pm, at El Centro Cultural de Mexico, in Santa Ana.
First workshops on 7/25 and 7/28: Stencil for Justice; bring a t-shirt to print. Plus, 7/30, Saturday at 6pm: Zapateado workshop. 7/31, Sunday at 1pm: Zapateado Practice.
To be scheduled, workshops on linoleum prints, street theater, puppet making and painting.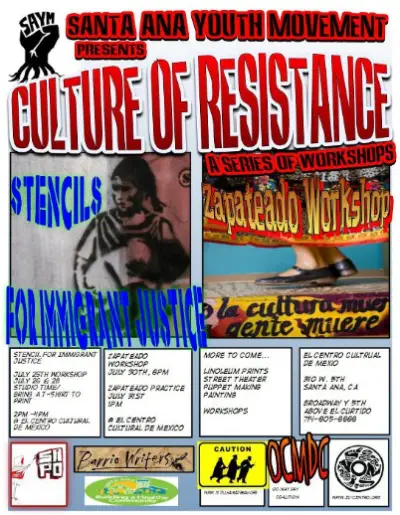 El Centro Cultural de Mexico, 310 W. 5th, Santa Ana, Broadway & 5th above El Curtido, 714/605-6666. Sponsors include Barrio Writers, Building a Healthy Community, www.istillhaveadream.org, OC May Day Coalition and www.el-centro.com.