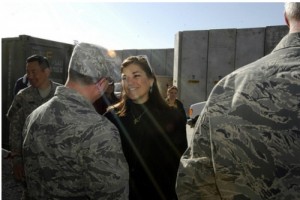 Congresswoman Loretta Sanchez, Representing California's 47th Congressional District
PRESS RELEASE, FOR IMMEDIATE RELEASE: October 21, 2011
MEDIA CONTACT: Adrienne Watson 202-309-0825
REP. LORETTA SANCHEZ ON PRESIDENT OBAMA'S IRAQ ANNOUNCEMENT
WASHINGTON, D.C. – Congresswoman Loretta Sanchez (CA-47), senior member of the House Armed Services Committee and the Committee on Homeland Security, released the following statement in response to the President's announcement that the United States will withdraw nearly all troops from Iraq by the end of this year. Rep. Sanchez voted against authorizing the invasion of Iraq in 2002 and opposed the troop surge in February 2007. She has visited the troops in Iraq numerous times since the beginning of our military operations.
"After nearly a decade of war, the President has ordered to end the war in Iraq and bring our troops home, and I support his decision," said Sanchez. "I stand with the American people in my profound appreciation for the significant sacrifices made by our service members and their families, and the work they have done to keep us safe.
"But it is time for our troops to come home. Nearly 4,500 service members made the ultimate sacrifice for this mission and more than 32,000 have been wounded. As our families have suffered from a recessed economy, nearly $1 trillion in taxpayer dollars has been spent in Iraq. I look forward to working with President Obama and my colleagues in Congress to better allocate our nation's precious and limited resources by investing in our needs here at home.
"Our military deserves great honor and respect for their service to this nation. It is the dedication of our service members that ultimately led to the death of Osama bin Laden and Anwar al-Awlaki. I encourage the President to work with the U.S. intelligence community to better concentrate U.S. military strategy and to quickly wind down America's full scale war operations in Afghanistan."
Congresswoman Loretta Sanchez is proud to represent California's 47th Congressional District, which includes the cities of Anaheim, Garden Grove, Santa Ana, and parts of Fullerton in Orange County. She serves as Ranking Member of the House Armed Services Subcommittee on Strategic Forces and a senior member of the Committee on Homeland Security. Rep. Sanchez is also a member of the fiscally conservative Blue Dog Coalition and sits on the bipartisan, bicameral Joint Economic Committee.
# # #
To be removed from this email list please reply with the word "Remove" in the subject line.
United States House of Representatives
1114 Longworth House Office Building • Washington, DC 20515
Phone: 202-225-2965 • Fax: 202-225-5859