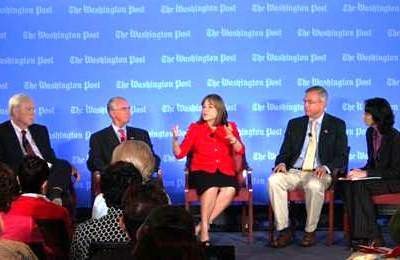 Congresswoman Loretta Sanchez, Representing California's 46th Congressional District
PRESS RELEASE, FOR IMMEDIATE RELEASE: September 23, 2015
MEDIA CONTACT: Emily Morris, 202-225-2965, Emily.Morris@mail.house.gov
REP. LORETTA SANCHEZ: POPE FRANCIS IS UNPREDICTABLE, EXCITING
WASHINGTON, D.C. – To mark Pope Francis' historic visit to the United States, Congresswoman Loretta Sanchez (CA-46) shared her views on Pope Francis at "Coffee@WaPo: Religion in America" a forum hosted by The Washington Post earlier this week.
"People want to know the Pope; he is drawing people to the Catholic Church," said Congresswoman Sanchez. "People who are not Catholic are hearing his message."
Congresswoman Sanchez described Pope Francis as "unpredictable" and pointed out that Pope Francis "is open to hearing new ideas. I think that is opening up and allowing us to have an open dialogue which is important for the Catholic religion."
"What is exciting about Francis is he is talking about the issues to people who have not had a faith based life," elaborated Congresswoman Sanchez. "Young people are focused on the climate change issue. He is reaching out to the youth."
"I think he will have a lasting ability to change the world," Congresswoman Sanchez said.
"Coffee@WaPo: Religion in America" was an in-depth conversation exploring current trends shaping the Catholic Church and what impact Pope Francis' popularity and celebrity is having on transforming the Church's political, social and global impact.
Congresswoman Sanchez was joined by Chris Matthews, host of MSNBC's "Hardball with Chris Matthews"; Hon. Francis Rooney, former U.S. Ambassador to the Holy See; and Rep. Andy Harris (R-MD) for a discussion about religion's role in national and global politics, moderated by The Washington Post's Religion reporter Michelle Boorstein. Cardinal Donald Wuerl, Archbishop of Washington, was interviewed on stage earlier in the program.
The event was live streamed and a video can be viewed HERE.
Ahead of Pope Francis' visit to Washington, D.C., Congresswoman Sanchez and House Democrats unveiled three video messages — all under 2 minutes — asking the Pope to address immigration reform, climate change, and poverty from his speech to the U.S. Congress on Thursday, September 24th .
###
Congresswoman Loretta Sanchez is proud to represent California's 46th Congressional District, which includes the cities of Anaheim, Santa Ana, and parts of the cities of Garden Grove and Orange in Orange County. She serves as Ranking Member of the House Armed Services Subcommittee on Tactical Air and Land Forces and as the second ranked Democrat on the Committee on Homeland Security.