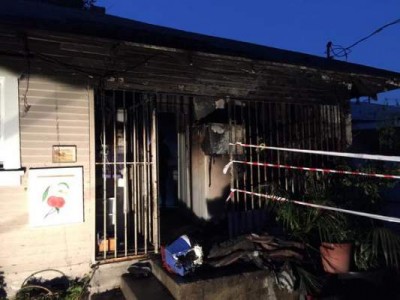 O.C. firefighters responded to a fire at a single-story house at the 800 block of N. Bristol Street, Santa Ana, today at around 5 a.m., according to the O.C. Register.
The fire was reported by a passerby who saw that the back of the house had fire coming out of it. He called 911 – and may have helped to save the lives of the seven adults and two children who ended up displaced by the fire.
An unidentified woman in her 20's woke up in the house at around that time and she initially thought that a light had been left on inside the house.  However she eventually realized it was a fire and she woke everyone up and got them out.
Thirty O.C.F.A. firefighters showed up at the fire and knocked it down after about 15 minutes.  They reported that there were no working smoke alarms in the house.
There was one injury.  A 14-year-old boy hurt his ankle when he jumped out of a window to get away from the fire.  His injury was said to be minor and he received treatment at the scene.
Ironically the O.C.F.A. distributed free smoke alarms this weekend – in fact they installed over 500 smoke alarms.  This fire is a reminder to our residents of the importance of having working smoke alarms in our houses and apartments.
Crews from So Cal Edison showed up to close off the area due to downed power lines.  The O.C.F.A. is still investigating what caused the blaze.