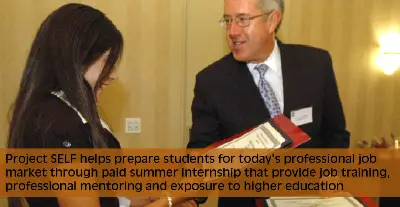 Record-Breaking 59 OC Students Enrolled in Project SELF Mentoring Program
FOR IMMEDIATE RELEASE
ORANGE COUNTY, CA- A record-breaking 59 students have been placed as interns throughout 51 Orange County law firms and law-related businesses through the Project SELF (Summer Employment in Law Firm) program, which provides low-income, minority high school juniors a hands-on summer internship.
Participating law firms include:
· Allen Matkins, Irvine, ranked as the No. 1 real estate law firm in California for the 10th consecutive year by leading legal directory Chambers & Partners USA
· Hodel Briggs Winter LLP, Irvine, a premier business litigation, employment, and corporate/transactional law firm
· O'Melveny & Myers LLP, Newport Beach, an international firm named as one of the top litigation firms in the US by The American Lawyer
· Rutan & Tucker, LLP, Costa Mesa, the largest full-service law firm in OC
The paid, eight-week internship, beginning June 19, 2012, will offer the opportunity to learn office skills, participate in a day in court, work alongside professional lawyers and provides exposure to professional career fields. Since its inception in 1995, 614 students have participated.
For the first year, students will participate in a Career Day at UCI on June 27, featuring a welcome from Founding Dean of UCI School of Law Erwin Chemerinsky, a campus tour, a career day panel and more.
For Project SELF questions contact Nancy Garcia, OCBF Associate Director, (714) 480-1925 ext. 108 or ngarcia@ocbarfoundation.org
Media inquiries contact Jess Block, Publicist, 909-706-8525 or JessBlockPR@gmail.com
ABOUT PROJECT SELF: Project SELF (Summer Employment in Law Firm) provides minority high school juniors the opportunity to have an eight-week, paid summer internship at a law firm while gaining valuable educational and work experience. The program is a collaboration between two non-profits: the Orange County Bar Foundation (OCBF) and the Orange County Chapter of the Association of Legal Administrators (OC-ALA). The Orange County Bar Association (OCBA) assisted in Project SELF's inception in 1995 and has continued to support the program. The annual Project SELF Recognition Dinner will be held Wednesday, August 1, 2012 at the Hilton Irvine. http://www.ocbarfoundation.org/programs/project_self.html
ABOUT ORANGE COUNTY BAR FOUNDATION (OCBF): OCBF is a non-profit organization committed to keeping at-risk youth out of jail, in school, healthy and drug free through education, counseling and mentoring. http://www.ocbarfoundation.org/
ABOUT ORANGE COUNTY CHAPTER OF THE ASSOCIATION OF LEGAL ADMINISTRATORS (OC-ALA): OC-ALA is a membership association that provides educational and networking opportunities to improve the quality and competency of legal administrators. OC-ALA has more than 145 members in the Orange County area and is a chapter of the Association of Legal Administrators, which consists of over 10,000 members worldwide. http://www.orangecountyala.org/
ALL 2012 PROJECT SELF PARTICIPATING LAW FIRMS AND LAW-RELATED BUSINESSES INCLUDE:
Costa Mesa:
• Bohm, Matsen, Kegel & Aguilera, LLP
• Latham & Watkins LLP
• Lewis Brisbois Bisgaard & Smith LLP
• Manatt, Phelps & Phillips, LLP
• Michael Maguire & Associates
• Paul Hastings LLP
• Rutan & Tucker, LLP
• Sheppard Mullin Richter & Hampton LLP
• Snell & Wilmer LLP
• Woodruff, Spradlin & Smart, APC
Irvine:
• Aldrich Bonnefin & Moore, PLC
• Allen Matkins Leck Gamble Mallory & Natsis LLP
• Berger Kahn, A Law Corporation
• Carothers DiSante & Freudenberger LLP
• Crowell & Moring LLP
• Dorsey & Whitney LLP
• Fiore, Racobs & Powers
• Fisher & Phillips LLP
• Gibson, Dunn & Crutcher LLP
• Haynes and Boone, LLP
• Hodel Briggs Winter LLP
• Jones Day
• Malcolm Cisneros, A Law Corporation
• McDermott Will & Emery LLP
• Orrick, Herrington & Sutcliffe LLP
• Palmieri, Tyler, Wiener, Wilhelm & Waldron LLP
• Payne & Fears LLP
• Rus, Miliband & Smith, APC
• Samuels, Green & Steel, LLP
• Shulman Hodges & Bastian LLP
• Troutman Sanders LLP
• Wesierski & Zurek LLP
Laguna Hills:
• Poliquin & DeGrave LLP
Newport Beach:
• CresaPartners
• Irell & Manella LLP
• Minyard Morris LLP
• Newmeyer & Dillion LLP
• O'Melveny & Myers LLP
• Orange County Bar Association
• Robinson Calcagnie Robinson Shapiro Davis, Inc.
• ROTH Capital Partners, LLC
• Stradling Yocca Carlson & Rauth, PC
• Travers Realty Corporation
• Wright, Finlay & Zak, LLP
Santa Ana:
• AlvaradoSmith
• First Legal Support Services
• Green & Hall
• Legal Aid Society of Orange County
• Orange County Clerk-Recorder
• Orange County Superior Court
• Traut Firm
—
***********************************************
MEDIA CONTACT
Jess Block, Felten Media Services
JessBlockPR@gmail.com
909. 706. 8525
909. 510. 8214 fax
www.feltenmedia.com
www.jessblock.com
www.twitter.com/jessbphoto
www.facebook.com/feltenmedia