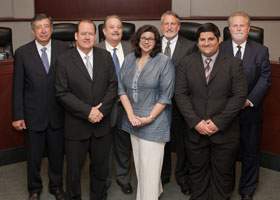 FOR IMMEDIATE RELEASE: November 5, 2012
Contact: Judy Iannaccone , Director, Communications , Phone: (714) 480-7503, e-mail: iannaccone_judy@rsccd.edu
Rancho Santiago Community College District Trustees Support Prop 30, Oppose Prop 38
(Santa Ana)—At a regularly scheduled meeting of the Rancho Santiago Community College District (RSCCD) Board of Trustees on October 8, the trustees voted in favor of a resolution in support of Proposition 30, the Schools and Local Public Safety Protection Act.
The resolution also took a stand against Proposition 38. If Proposition 30 were approved, RSCCD could avoid an estimated additional $8.6 million budget cut in the 2012-13 year. Its passage would stave off the reduction of an estimated 600 course sections which could translate into 2,000 fewer students with access to community college classes.
Since 2008-09, the California Community Colleges have been cut by $809 million, or 12 percent, and total enrollment has gone down by 300,000 students at a time of increased demand. Unlike other entities in the public higher education in California, community colleges do not regulate enrollment fees nor do they keep the fees that students pay. The fees go into the state's general fund and the state legislature regulates the fees students pay and the number of students that can enroll. The legislature has raised fees from $20 per unit in 2006-07 to $46 per unit for the 2012-2013 academic year, an increase of 130 percent.
If Proposition 30 passes, it is estimated that community colleges will receive $209 million in additional funds in 2012-13. According to the California Community Colleges Chancellor's Office, about $50 million of those funds will go toward enrollment growth, and the balance will "buy down" the nearly $1 billion in state funding commitments to community colleges that have been deferred. The additional funds will not pay for programs for students. It has been projected that the governor's ballot initiative will also provide a funding increase to the community colleges system of at least 4 percent for fiscal years 2013-14 through 2015-16.If Proposition 30 fails, it is expected that the California Community Colleges will have its budget cut by another $338 million in the middle of the academic year, which would force colleges to slash course offerings even further and likely force more layoffs and additional borrowing. The projected mid-year cut would translate into a 7.5 percent funding reduction throughout the 112-college system.
The RSCCD Board of Trustees' resolution stated, "Proposition 38 fails to provide funds for higher education and would not prevent $8 million in cuts to RSCCD and cuts to other community colleges, California State Universities, and the Universities of California." Additionally, the resolution emphasized that if Propositions 30 and 38 were both to pass and Proposition 38 received more votes than 30, Proposition 38 would become law and Proposition 38 would not take effect.
About the Rancho Santiago Community College District
The mission of the Rancho Santiago Community College District (RSCCD) is to respond to the educational needs of an ever-changing community and to provide programs and services that reflect academic excellence. Santa Ana College and Santiago Canyon College are public community colleges of RSCCD, which serve the residents of Anaheim Hills, East Garden Grove, Irvine, Orange, Santa Ana, Tustin and Villa Park. Both colleges provide education for academic transfer and careers, courses for personal and professional development, customized training for business and industry, and programs to train nurses, firefighters and law enforcement personnel.
# # #