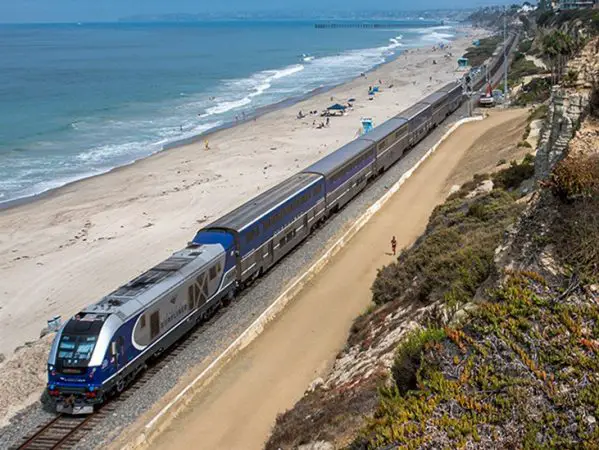 ORANGE – All passenger and freight train service has been temporarily halted out of an abundance of caution because of debris falling from a slope north of the San Clemente Pier.
Pacific Surfliner service is affected between San Juan Capistrano and Oceanside. All Thursday afternoon and evening Metrolink service to Oceanside will only operate as far south as the Laguna Niguel/Mission Viejo Station. Passengers will be provided Uber vouchers of up to $50 to reach their final destination.
The decision to close the track, just after 1 p.m. Thursday, was made by Metrolink, in consultation with the LOSSAN Rail Corridor Agency (operator of Amtrak's Pacific Surfliner) and the Orange County Transportation Authority, which owns the track through Orange County.
The tracks will only reopen once it is determined safe rail movement can resume.
OCTA, Metrolink and Pacific Surfliner are working to keep passengers informed through numerous communication channels, including electronic messages and social media. Passengers are asked to look for updates at metrolinktrains.com/service-update and pacificsurfliner.com/alerts.
The location of this closure is approximately 2 miles north of where OCTA is completing construction work near the Cyprus Shore Homeowners Association in San Clemente. This instance of falling debris from the hillside is unrelated to that effort.
OCTA remains in close contact with all of its rail partners and with the city of San Clemente.
# #
About OCTA: The Orange County Transportation Authority is the county transportation planning commission, responsible for funding and implementing transit and capital projects for a balanced and sustainable transportation system that reflects the diverse travel needs of the county's 34 cities and 3.2 million residents. With the mission of keeping Orange County moving, this includes freeways and express lanes, bus and rail transit, rideshare, commuter rail and active transportation. To sign up for more OCTA news, visit octa.net/GetConnected.