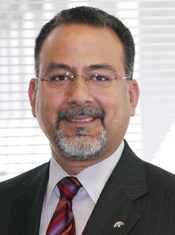 Santa Ana Public Works Director Raul Godinez will depart Santa Ana to become the new City Manager of El Monte on July 15 at a salary of $195,000, according to OC Political blogger Thomas Gordon. (Gordon is a member of the OC GOP Central Committee and a past Santa Ana Mayoral Candidate).
Godinez was thought to be the leading candidate to become Santa Ana's next City Manager, but guess what?  El Monte retained the services of executive search firm Bob Murray & Associates, the same company tasked with hiring a new City Manager for Santa Ana.  So they found Godinez a job, but not here in Santa Ana.
I have wondered who in their right mind would want to work for the Santa Ana City Council after they fired our last City Manager, Paul Walters – when he did nothing to deserve that fate.  In fact Walters saved the City from a budget fiasco by outsourcing the Santa Ana Fire Department.
Now Santa Ana has two holes to fill.  We still don't have a City Manager and now we aren't going to have a Public Works director either.  All because our City Council decided to fire Walters as part of their petty campaign against longtime Santa Ana Mayor Miguel Pulido.
I wonder if this means that Santa Ana Parks and Rec Director Gerardo Mouet is back in the running to replace Walters?
The Council Member who most wanted to fire Walters was reportedly Michele Martinez.  She spent the past week having a great time at the National Association of Latino Elected Officials (NALEO) Annual Conference in Chicago.  I am told that the City of Santa Ana spent $2,500 on Martinez' travel expenses.  What did we get for our money?  Well here are some of the courses that Martinez may have taken:
Working with the LGBT Community in Your District
Combating the Rise of Food Deserts
Improving Latino Health Outcomes Under the Affordable Care Act (Obamacare)
Strategies for Mobilizing Latino Voters
Federal Issues Forum Climate Change: Understanding and Managing Local Risks
And of course Martinez participated in the Fourth Annual NALEO 5K Run/Walk.  Unfortunately NALEO didn't offer any courses on how to treat your city employees or on how to not waste money on frivolous junkets.