The proposed OC Streetcar is one milestone closer to becoming the county's first modern light-rail system, after President Barack Obama included $125 million for it in his proposed federal budget for the 2016-17 fiscal year, according to the O.C. Register.
The OC Streetcar project still needs to come up with another $20 million dollars. OCTA officials believe they can do so from state programs or local state tax dollars.
The streetcar will have 10 stops in each direction concentrated in Santa Ana's Civic Center area running to the eastern edge of Garden Grove.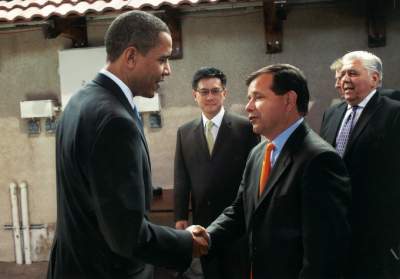 Mayor Miguel Pulido anticipates a leg extending south toward John Wayne Airport, from Bristol Street and Santa Ana Boulevard.
Pulido would also like to one day link this streetcar system to the one proposed in Anaheim. And he also proposes that it might one day also run north to the Fullerton Transportation Center.
Detractors say that the streetcar will do nothing that buses can't already do.  And with bus ridership going down one has to wonder if building an expensive fixed streetcar makes any sense.
One also has to wonder if anyone really needs to go from DTSA to downtown Garden Grove?  And vice versa?
In 20 years we could all be riding electric Google cars that drive themselves – on smart roads that control traffic.
Some believe that the true purpose of the OC Streetcar is to inflate property values along it.
No matter how you feel about this project there is no doubt that Pulido made this happen with his connections in DC. This will most likely be his legacy project – and the fact that it has gotten this far without any redevelopment funding is impressive.