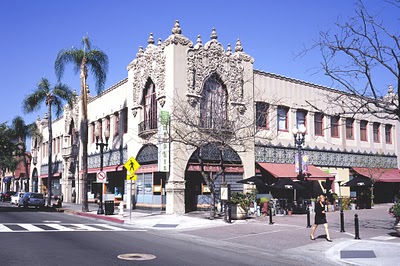 For Immediate Release
FOR MORE INFORMATION CONTACT: ALICIA ROJAS, UNITED ARTISTS OF SANTA ANA,  (714) 907 – 5468
ARTISTS CALL: Poster Contest for the Santora Building of the Arts' 84th Birthday Celebration
We are pleased to announce that on July 7th, 2012, the Santora will be celebrating its 84th years since its construction, and 10 years since its inception as a building for the arts. In seeking community engagement for the planning of this
magnificent event, the artists of the Santora, in collaboration with the United Artists of Santa Ana, cordially invite
you to participate in the Santora Building of The Arts' 84th Birthday Celebration Poster Contest.
The celebration will highlight the history of the building, showcasing it as a center for the continued vitality
and preservation of the arts in Santa Ana. The historic building itself, was designed by Frank Lansdowne, one of the
premier architects of the region, in the Churrigueresque variant of Spanish Colonial Revival design.
The groundbreaking took place on July 7, 1928 in Downtown Santa Ana. The building now houses various art galleries,
retail spaces and restaurants.
The Santora is a historic building, listed in the National Register of Historic Places as record #386426.
POSTER SPECS:
All submissions must be original works of art/photography unless given permission by copyrights holders.
High-resolution 300DPI. 16″ x 20″, allow 1/2″ for a bleed and 1/2″ for trim space.
The poster will need to have the name of the event as the main title: Santora Building of the Arts' 84th Birthday Celebration.
Also include event details:
Date: July 7th 2012
Time: 6PM
Address: 207 North Broadway, Santa Ana, CA 92701
DEADLINE:
All submissions must be submitted digitally by APRIL 30th, 2012
The winner will be announced at the Art Walk on May 5th, 2012
PRIZES:
Winner will receive city wide recognition for their design!
One month showcase at The Santora Building For The Arts including being featured at Art-Walk
One year free membership with OCFA (Orange County Fine Arts Association)
A $25.00 Gift Card from Art Supply Warehouse
And many more prizes to come!