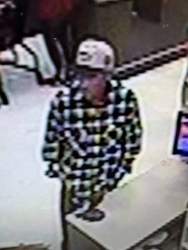 An male suspect conducted an an armed robbery with a handgun at an unidentified store at the Tustin District on Friday, July 26.
The suspect was seen in the area and may have brandished the gun at another victim.
The suspect was described as a male White or Hispanic, mid-40s, 5'7", thin build, last seen wearing a white and black colored ball cap, plaid long sleeve shirt, and blue jeans.
If you have information regarding this incident or believe you may have seen the suspect, please contact the Tustin Police at 714-573-3225.