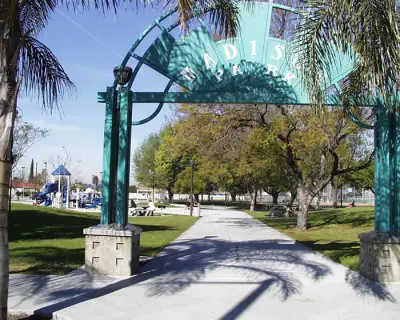 The parking lot at Madison Park will be closed starting Wednesday, August 3 through Thursday, August 4, 2022, to use for construction equipment installing the new restroom facility. The park remains open during the construction activity and parking is available on the street. The parking lot will reopen to the public on Friday August 5, 2022. Madison Park is located at 1528 S. Standard Avenue in the City of Santa Ana.
Will you still vote for Sarmiento even though his family is suing the City of Santa Ana?
If you have any questions, please contact Gilbert Castillo at (714) 647-5647. We apologize for any inconvenience and thank you for understanding.
Estacionamiento cerrado en Madison Park
El estacionamiento en Madison Park estará cerrado a partir del miércoles 3 de agosto hasta el jueves 4 de agosto de 2022 para usarse para equipos de construcción que instalen las nuevas instalaciones sanitarias. El parque permanece abierto durante la actividad de construcción y hay estacionamiento disponible en la calle. El estacionamiento reabrirá al público el viernes 5 de agosto de 2022. Madison Park está ubicado en 1528 S. Standard Avenue en la ciudad de Santa Ana.
Si tiene alguna pregunta, comuníquese con Gilbert Castillo al (714) 647-5647. Pedimos disculpas por cualquier inconveniente y gracias por su comprensión.
Bãi đậu xe đã đóng cửa tại Madison Park
Bãi đậu xe tại Madison Park sẽ đóng cửa bắt đầu từ Thứ Tư, ngày 3 tháng 8 đến thứ Năm, ngày 4 tháng 8 năm 2022, để sử dụng cho các thiết bị xây dựng lắp đặt cơ sở nhà vệ sinh mới. Công viên vẫn mở cửa trong thời gian hoạt động xây dựng và có bãi đậu xe trên đường phố. Bãi đậu xe sẽ mở cửa trở lại cho công chúng vào Thứ Sáu ngày 5 tháng 8 năm 2022. Công viên Madison tọa lạc tại 1528 S. Standard Avenue ở Thành phố Santa Ana.
Nếu bạn có bất kỳ câu hỏi nào, vui lòng liên hệ Gilbert Castillo theo số (714) 647-5647. Chúng tôi xin lỗi vì bất kỳ sự bất tiện nào và cảm ơn bạn đã thông cảm.