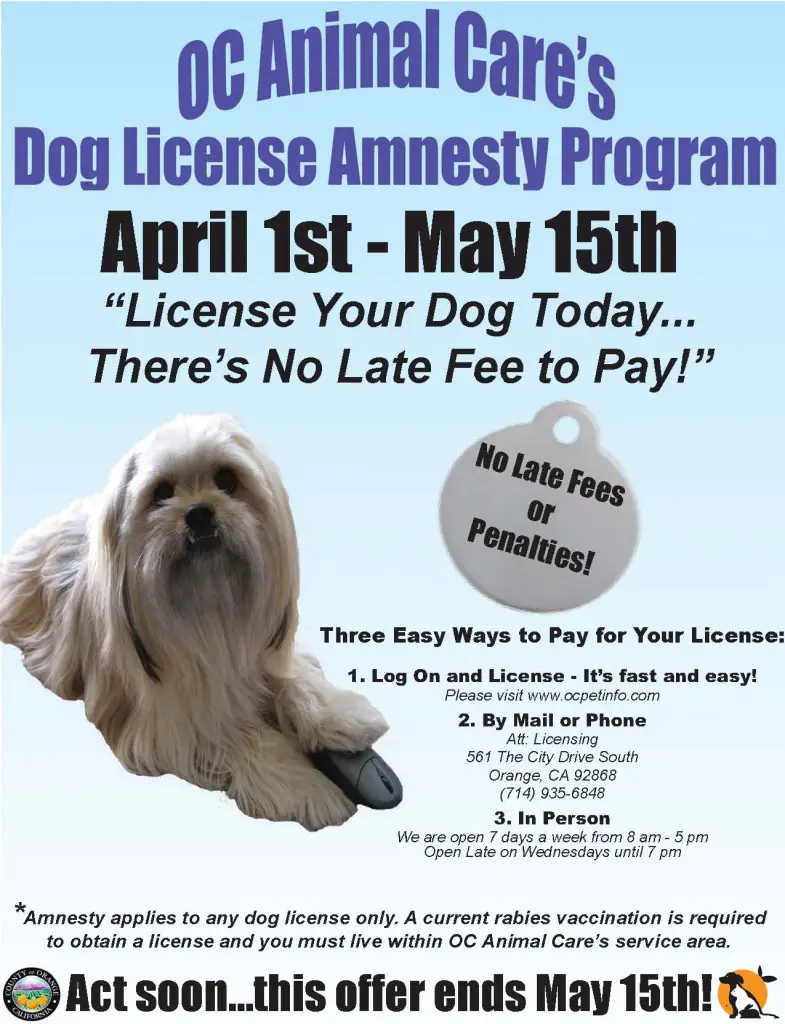 FOR IMMEDIATE RELEASE: May 10, 2010
Contact: Ryan Drabek (714) 935-7107 or Katie Ingram (714) 935-6194
Only One Week Left for Dog Owners to Take Advantage of License Amnesty Program
(Orange, – CA) Dog owners living in the 17 cities and unincorporated areas served by OC Animal Care have just one week left to renew their expired licenses with no worry of late fees or extra charges.
Since the amnesty program began April 1st, the department has issued 3,567 more dog licenses than were purchased during the same period last year – a 25% increase overall.
"OC Animal Care is pleased to continue offering the Dog License Amnesty Program, which has been a great success so far," said Ryan Drabek, Interim Director for OC Animal Care. "We encourage dog owners to take advantage of this program prior to its conclusion on May 15th and avoid all late fees. A dog license is still one of the best ways to ensure your pet is returned home should the unfortunate happen."
Licenses can be purchased online at www.ocpetinfo.com, in-person at OC Animal Care at 561 The City Drive South, Orange, CA 92868, or by telephone at (714) 935-6848. A current rabies vaccination is required to license a pet. If a pet is spayed or neutered, owners will receive a discount on the license fee with proof of sterility. If an owner wants to take advantage of this special discount, but they do not have an altered pet, OC Animal Care will allow them to pay the discounted rate during the amnesty period. These owners will then be required to submit proof of sterility within two weeks of licensing.
For more information on this program, please contact Ryan Drabek at (714) 935-7107 or Katie Ingram at (714) 935-6194, or visit our website at www.ocpetinfo.com.
###
561 The City Drive South, Orange CA. 92868 • Phone (714) 935-6848 Fax (714) 935-6373
Steve Franks, Director, OC Community Resources
Ryan Drabek, Interim Director, OC Animal Care
Karen Roper, Director, OC Community Services
Mark Denny, Director, OC Parks
Helen Fried, County Librarian, OC Public Libraries