FOR IMMEDIATE RELEASE: Nov. 11, 2013
FOR MORE INFORMATION: Joel Zlotnik (714) 560-5713/Eric Carpenter (714) 560-5697
OCTA Kicks Off Holiday Season With Jingle Pass Sales Event
Residents can save 15 percent off 30-day bus passes for a limited time
ORANGE –The Orange County Transportation Authority is kicking off the holidays with a Jingle Pass sales promotion from Nov. 15 through Nov. 30.
The Jingle Pass is part of OCTA's ridership program and enables riders to get where they need to go with less money out of their pockets.
The Jingle Pass sales promotion offers $10 off adult 30-day bus passes, $6 off on youth 30-day bus passes and $3 off on senior 30-day bus passes.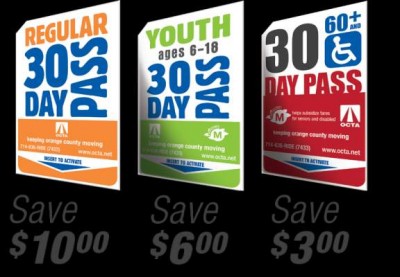 "We hope that residents will take advantage of this promotion and save on their passes this holiday season," said OCTA Chairman Greg Winterbottom. "This is a perfect time for riders to take advantage of what public transportation has to offer."
The 30-day pass is only valid on local fixed-route buses and not valid on express buses or ACCESS service. Quantities are limited and a coupon must be presented for the discount to be valid. Coupons and mail order forms can be printed at www.octa.net/jinglepass.
Discounted passes are offered for purchase only at the OCTA Store or by mail. The Store is open from 8:30 a.m. to 5:30 p.m. Monday through Friday at 550 S. Main Street in Orange.
# # #

Discounted passes are available for sale ONLY at the OCTA Store or by mail. You must have a couponto receive your discount.
Jingle Pass Sales Event Tips
Coupon must be present for discount to be valid.
Limit one pass per coupon, per customer.
Limited quantities available.
Discounted passes are only available by mail or at the OCTA Store located at 550 South Main Street in the city of Orange.