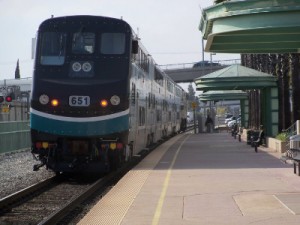 FOR IMMEDIATE RELEASE: Feb. 20, 2014
FOR MORE INFORMATION: Joel Zlotnik (714) 560-5713, Eric Carpenter (714) 560-5697
OCTA Applauds Implementation of Positive Train Control
Metrolink will be the first commuter rail service in the nation to utilize the collision-avoidance system
ORANGE – Orange County Transportation Authority CEO Darrell Johnson praised today's announcement by Metrolink that Positive Train Control has started to be implemented on the commuter rail line serving Southern California.
"Positive Train Control is a critically important safety enhancement and OCTA is very pleased to see the collision avoidance system now being rolled out on Metrolink trains," said Johnson. "As public transit agencies, there is no greater responsibility than ensuring the well-being of the millions of people each year who depend upon us for either their daily commutes or for weekend recreational trips."
As one of five member agencies of the Southern California Regional Rail Authority, which operates Metrolink, OCTA was the first to fund its portion of the Positive Train Control system.
Positive Train Control is state-of-the-art technology that can track the position and speed of a train and will automatically slow or stop the train to prevent a collision or derailment. Federal law mandates that PTC be installed on all passenger trains by 2015.
Three weekday Metrolink lines serve Orange County with 54 daily trains: the Orange County Line provides service between Oceanside and Los Angeles Union Station; the Inland Empire-Orange County (IEOC) Line, with service from San Bernardino and Riverside to Oceanside; and the 91 Line, with service from Riverside to Los Angeles via Fullerton and Buena Park.
Metrolink carried 4.2 million riders last year in Orange County, with average weekday boardings of 16,000 passengers.
For more information on Metrolink in Orange County, go to www.octa.net/metrolink
# # #