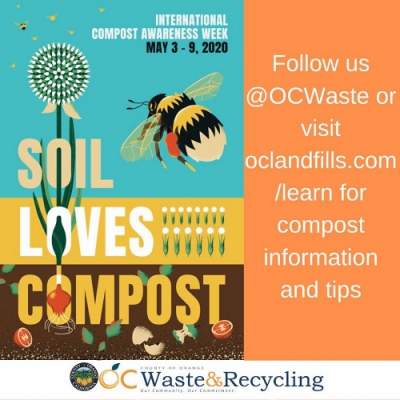 Looking for a great activity to break up that stay-at-home boredom? Celebrate International Compost Awareness Week: May 3-9, 2020 with us! Compost increases soil health, reduces methane emissions from landfills and decreases pesticide and chemical use. Here are some ways to learn about composting while getting the whole family involved:
• Compost 101 Free Webinar —  Take an online composting class! Learn about the basics of composting from the safety of home, Friday, May 8, 9 a.m. CDT.
• Start a Victory Garden — Join the rejuvenated Victory Garden movement! Millions of Americans staying home have turned to their gardens for exercise, family activity, healthy produce and fun! Find out more here.
• Get your hands dirty! – Ready to dig into composting? Check out these helpful resources to start a composting or gardening project at home.

For more fun tips and activities, follow OC Waste & Recycling on social media @OCWaste or visit www.oclandfills.com/learn.