Victim was taken of life support and pronounced dead today at 12:36 this afternoon, according to the SAPD.
The attack on a woman who was beaten into unconsciousness outside a popular  Santa Ana nightspot may have been sparked when the 23-year-old accidentally  walked in front of a camera as a group of nightclub patrons posed for a photo, a  friend said Tuesday, according to the Los Angeles Times.
A friend, who declined to be identified because police are still investigating  the case, said three women and two men got into a heated argument with Pham  after she accidently walked into one of their photos. A cellphone, believed to  belong to one of the suspects, was recovered from the scene, the friend said.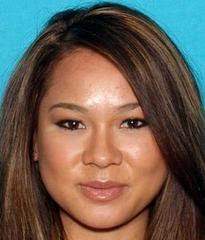 Are you kidding me?  These maniacs beat a young woman to death because she messed up a picture?  I am not buying this.  You don't beat a person to death – literally kicking them in the head, unless there is absolute hatred involved.  The killers are said to be Latinos.  The victim was Vietnamese American.  I have no doubt that when the rest of these maniacs are arrested that the truth will come out – this was a hate crime.  This photobombing nonsense is just an excuse.  This was NOT Pham's fault!
Police were also seeking two women and two men in the case and are hoping a $5,000 reward will lead to the culprits. The reward is being offered by Santa Ana businesses near the club where she was critically hurt, according to NBC.  I don't know why the owners of the Crosby didn't pitch in to the reward.  Someone should ask them about that.