The new Santa Ana Public Works Director, Raul Godinez II, served in a similar capacity in the City of Oakland for five years.
Godinez replaced Jim Ross, who was the Public Works Director in Santa Ana for many years.
Click here to read a news article about Godinez, who apparently was good at his job and was appreciated by the people he served in Oakland.
While the City of Santa Ana has not trumpeted Godinez' hire, I did find a blog post that corroborated this story.
Godinez will have his hands full in Santa Ana, dealing with unpaved streets and a crumbling water infrastructure.  But this looks like a great hire.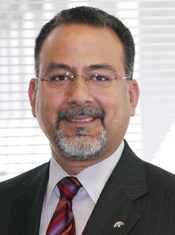 I am told that Godinez was supported by former Oakland Mayor Jerry Brown, who is now the California Attorney General.  Santa Ana Mayor Miguel Pulido is a Brown supporter, according to city hall insiders.  Perhaps Brown recommended Godinez to Pulido?
There is not much info about Godinez beyond what I have divulged here.  I look forward to finding out more about him and his plans for the Santa Ana Public Work's agency.