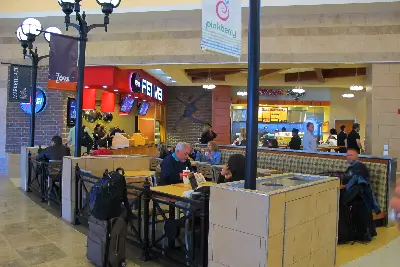 FOR IMMEDIATE RELEASE: December 9, 2011
Contact: Jenny Wedge, (949) 252-5182 (office), jwedge@ocair.com
NEW DINING OPTIONS OPEN AT JOHN WAYNE AIRPORT
SANTA ANA, Calif. – Four new concessions are open for business at John Wayne Airport. The food court area known as the 'Marketplace' – located across from Gates 13 and 14 – is home to Pei Wei, Jerry's Wood-Fired Dogs, Pinkberry and Zov's – brands brought to John Wayne Airport by HMSHost.
New marketplace at John Wayne Airport offers a variety of dining options including Pei Wei, Jerry's Wood-Fired Dogs, Pinkberry and Zov's.
"The Airport is pleased to join with HMSHost and their restaurant partners to provide tasty new dining choices to our passengers," said Airport Director Alan Murphy. "These new brands offer something for every traveler's palate."
Also scheduled to open this month are Javi's and the Anaheim Ducks Breakaway Bar & Grill, both in Terminal C. See other dining options available at JWA here.
Jerry's Wood-Fired Dogs is the first wood-fired grill in an airport. All of Jerry's hot dogs will come from the same local purveyor that supplies his street-side locations. Travelers will be able to customize their hot dogs with over 30 different toppings.
Pei Wei offers Pan-Asian cuisine for an affordable price. With the slogan 'East of Usual,' Pei Wei encourages diners to break away from their daily routine and indulge in a little flavor tourism. Pei Wei is about trying new flavors and foods to enrich the palate and embracing new cultures.
Pinkberry serves up refreshing frozen yogurt with a sophisticated style. Their yogurt is made from only hormone free milk with live and active cultures. Flavors include seasonal offerings and toppings, always including their original 'Tart' flavor.
Zov's is the second JWA dining option from Orange County's award winning chef and best-selling cookbook author Zov Karamardian. Zov's offers contemporary Eastern Mediterranean cuisine, featuring her famous Golden Lentil Soup as well as homemade hummus and tabbouleh.
The new concessions are part of the overall John Wayne Airport Improvement Program, which brings twice the dining and retail options than previously available at the Airport.
About John Wayne Airport:
John Wayne Airport (SNA) is owned by the County of Orange and is operated as a self-supporting enterprise that receives no general fund tax revenue. The Airport serves approximately nine million passengers annually, reaches 20 non-stop destinations in the United States and Canada and is served by 10 commercial passenger airlines. More information can be found at www.ocair.com.
# # #
You can access JWA news releases at www.ocair.com/newsroom/news