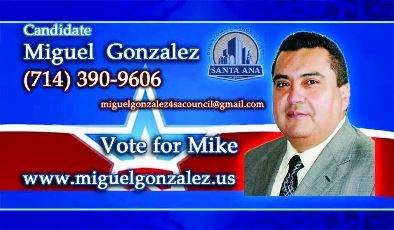 Miguel "Mike" Gonzalez has announced his campaign for Ward 6 on the Santa Ana City Council.  That seat is currently held by Santa Ana Mayor Pro Tem Sal Tinajero, who works as a public school teacher and debate team coach in Fullerton.
Gonzalez's campaign website states:
Born in California and raised with one sibling, Miguel Gonzalez, learned early on the value of hard work, teamwork, and perseverance. He graduated at the top of his high school class and led his football team to a state championship victory, all while working a part-time job as a security guard.


Mike's academic prowess and leadership abilities earned him a scholarship to an Universidad de Guadalajara, where he graduated with a degree in political science. He spent the next two decades prosecuting the state's gravest offenders, in addition to volunteering for a variety of charitable causes.
Gonzales owns a Mexican nightclub/restaurant, Mexicanisimo in Santa Ana.  This venue provides live Mexican music in the evenings.  Councilman Vince Sarmiento and his family operate similar venues in Santa Ana.
Gonzalez also operates a security guard business.  He is in fact a state-certified private security instructor.  He would be well served to run for the City Council as a "Teacher/Businessman."
Gonzales is a longtime member of the Santa Ana Kiwanis Club. He has donated thousands of dollars to local charities, youth organizations and student scholarship funds.  He also has served as a National Vice Chairman of the League of United Latin American Citizens, on their Commission on Immigrant Affairs.  He is also an active leader of "Los 32," an organization of Mexican Americans who support cultural exchanges with the 32 Mexican states.
Gonzalez previously ran for the SAUSD School Board in a crowded field in 2008, garnering 7,645 votes according to Smart Voter.  He was endorsed in that race by Mayor Miguel Pulido, State Senator Lou Correa, and Council Members Sarmiento and Tinajero, according to Smart Voter.
Tinajero might be the toughest to beat of the three Council Members who are up for re-election in November's General Election.  Tinajero in the past has recruited dozens of his Fullerton students to walk precincts for him.  Tinajero also has made many connections due to his work as a debate team coach and can fundraise outside of the city.
Tinajero is a registered Democrat and Gonzalez has no political party affiliation.
Click here to contact Gonzalez.