Peter Ojeda, one of the original Mexican Mafia bosses, was  sentenced Monday to 15 years in prison for federal racketeering charges, according to the O.C. Register.
Even though Ojeda was in jail for many years he continued to control crime in local neighborhoods and in the jails via his large gang network.
Ojeda was lucky that he did not get a life sentence. U.S. District Judge James V. Selna gave him the opportunity to earn his freedom if he behaves and renounces his past ways.
Ojeda has never learned his lesson before. He kept on controlling street crime even after a o2006 racketeering conviction.
"It's been a life that has principally been dedicated to running the Mexican Mafia," Assistant U.S. Attorney Joseph McNally said.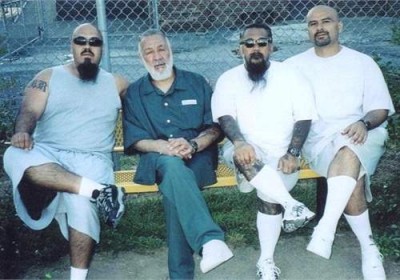 Ojeda's latest legal troubles stem from Operation Black Flag, which resulted in arrests of gang members all over Southern California. That operation led the authorities to Ojeda.
What investigators found was that Ojeda and his Mexican Mafia controlled gang activity both on the streets and in the prisons and jails by taxing drug dealers and issuing orders to local gangbangers. Those who fell out of Ojeda's favor often paid for that with their lives or were at least beaten badly.
Gangbangers who testified against Ojeda included Glenn Navarro and Armando Moreno.
Ojeda ended up in a gang war with Moreno when he realized that Moreno's crews  were acting without his blessings in the local jails. Ojeda's and Moreno's minions ended up in clashing violently. Eventually Ojeda prevailed after he got the support of several Mexican Mafia leaders from Los Angeles.
But Ojeda's victory was for naught. He was sentenced this Monday to two felonies: racketeering, and criminal conspiracy to commit murder and assault with serious bodily injury.
Santa Ana's gangs have been warring since Operation Black Flag, with the senior gang members locked up. Ironically there was less violent crime in Santa Ana when Ojeda was calling the shots. No one is controlling the younger gangbangers now and drive by shootings are now a common event in our city.