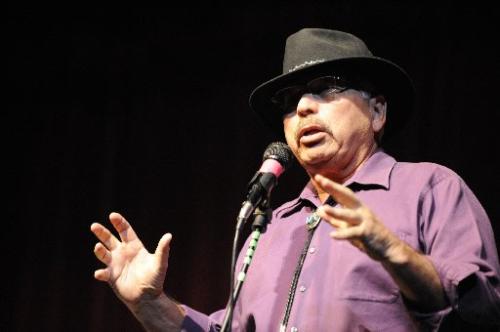 Come Hear Best-Selling Author Victor Villaseñor.  He will be speaking and signing books purchased at Librería Martinez.
Please note: Only the first 100 guests to arrive can be guaranteed a seat for this exciting event. Don't miss out!
Wednesday, Dec 08, 2010, from 7:00pm – 9:00pm
Librería Martinez, Books and Art Gallery
216 N. Broadway, Santa Ana, CA 92701 (714) 973-7900
Some of Victor's books:
BURRO GENIUS 2004 HarperCollins Publishing imprint RAYO.
BURRO GENIUS, a Pulitzer Prize nominee and a Nationally Acclaimed Best Seller, was included in the 2005 New York Public Library Books Teen Age List, 12 to 18 years old. Also available in Spanish
»Publishers Weekly Review
BURRO GENIUS continues the Villaseñor family story and goes into Victor Villaseñor's own youth and education. With his signature of bold vitality, and his own incredible life-story, BURRO GENIUS takes the reader into the soul of a young boy full of confusion . . . . and yet encouraged by the love for his brother and a sense of artistic destiny and magic.
RAIN OF GOLD 1991 Arte Público Press (Hard Cover)
RAIN OF GOLD is a true-life saga of love, family and destiny, pulsing with bold vitality, sweeping from the war-ravaged Mexican mountains of Pancho Villa's revolution to the Prohibition days of California. Bursting from the pages with real-life characters and passionate drama, RAIN OF GOLD is a major work by a Mexican-American writer of extraordinary power, Victor Villaseñor. In RAIN OF GOLD, Victor Villaseñor weaves the parallel stories of two families and two countries…bringing us the timeless romance between the volatile bootlegger who would become his father and the beautiful Lupe, his mother – men and women in whose lives the real and the fantastical exist side by side…and in whose hearts the spirit to survive is fueled by a family's unconditional love.
CRAZYLOCO LOVE
2008 Arte Publico Press
Crazy Loco Love is Best-Selling Author's Very Personal, Passionate New Book
HOUSTON, TX—September 2008 From Victor Villaseñor, one of America's most beloved writers, author of Rain of Gold and Burro Genius, comes Crazy Loco Love (Arte Público Press, September 2008, $26.95, 416 pages, clothbound, ISBN-13: 978-1-55885-315-7), a compelling memoir of his adolescent search for meaning and identity. In this new work, Villaseñor deftly undermines the macho stereotype so often associated with Latinos, while exposing the tender vulnerability and naiveté of a young man grappling with his own sexuality and spirituality. Kirkus Reviews says, "Readers will find Crazy Loco Love a departure in a new direction, for now the author, revisiting his late-adolescent self, becomes exceedingly interested in matters of the flesh."
THIRTEEN SENSES
2001 HarperCollins Publishing imprint RAYO. (Hard Cover or Quality Paperback)
Nationally Acclaimed Best Seller.  Also available in Spanish
THIRTEEN SENSES, the sequel to RAIN OF GOLD, continues the powerful family epic as told by master storyteller Victor Villaseñor. Set in the colorful backdrop of Southern California amidst the bygone era of Prohibition and the Great Depression, this memoir recalls the story of Salvador and Lupe's first years of marriage. Filled with thrilling action, gut-wrenching suspense, ancestral wisdom, and timeless love, this adventure never lets up. Embracing unconditional love, profound grit, and the tenacity of two spirits which transcend all obstacles, THIRTEEN SENSES demonstrates the strength of women, the power of magic, and eliminates the narrow boundaries set by Euro-American five sensory world.
For information about forthcoming events, please call (714) 973-7900 or send email to Ruebén. To make comments, go to his "Guestbook" page where you can leave him a message.