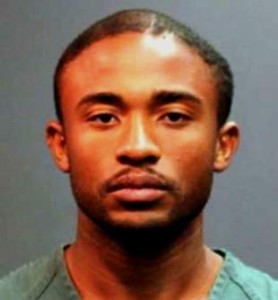 Santa Ana Police Department
Advisory: Suspect Arrested For Assaulting Victims With A Pickaxe And Possession Of A Stolen Vehicle
Arrested: Isaiah Gassaway (23) Santa Ana
Summary: Thu, 7/2/15 at approx. 9:06 a.m., SAPD Communications received calls of a subject who had reportedly pulled out a pickaxe and began waving it around at the intersection of Ross and Civic Center.
Officers responded to the area and detained the suspect (Isaiah Gassaway) without incident. Investigation determined that a subject had been taking photographs of the homeless population and this angered the suspect. The suspect then brandished the pickaxe at the photographer and chased him with it.
Further investigation determined that the vehicle in which suspect Gassaway had been seen inside was a reported Santa Ana stolen vehicle.
A second victim had been recording the incident on his phone when suspect Gassaway confronted him with the pickaxe and demanded the phone. The victim refused to hand over the phone and entered his vehicle in an attempt to get away. The suspect hit the victim's vehicle with the pickaxe causing minor damage.
Charges:
CPC – 664/245 Attempt Assault With A Deadly Weapon
CPC – 664/211 Attempted Robbery
CPC – 496 Possession Of Stolen Property – Vehicle
###