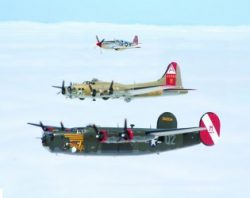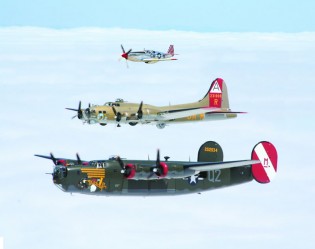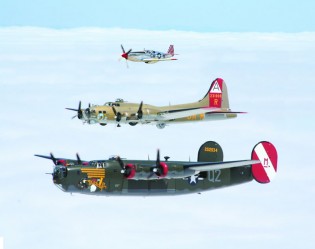 LYON AIR MUSEUM HOSTS 'WINGS OF FREEDOM' TOUR
MAY 6-9, 2011 AT JOHN WAYNE AIRPORT IN OC
PAID PUBLIC FLIGHTS AVAILABLE ON WW II-ERA B-17, B-24 AND P-51 MUSTANG AIRCRAFT
SANTA ANA, Calif., April 28, 2011—The nationally renowned Collings Foundation "Wings Of Freedom 2011 Tour," offering the general public aircraft tours along with flights on famous World War II-era heavy bombers and "stick time" in a P-51 Mustang long-range fighter plane, will visit Lyon Air Museum (LAM) in Orange County, Calif., Fri., May 6, through Mon., May 9, 2011.  The Museum is located on the west side of Orange County's John Wayne Airport.
The stars of a 110-city nationwide tour, the WWII-era aircraft participating in the Collings Foundation 22ND Annual "Wings Of Freedom Tour" include the "Nine O Nine" Boeing B-17 Flying Fortress Heavy Bomber, the "Witchcraft" Consolidated B-24J Liberator Heavy Bomber, and the dual-control "Betty Jane" North American Aviation P-51C Mustang—a model known during the war as "the world's greatest fighter."
"This is a rare opportunity for people in Southern California to visit, explore and learn more about these unique and rare treasures of aviation history," said Mark Foster, president of Lyon Air Museum, a premier Southern California showcase for the Museum's classic aircraft and automobiles. "Each of these planes tells a story about the Second World War that's important for future generations to know and understand, and this event will give attendees the opportunity to experience first-hand some of the remarkable aircraft flown by aviation's greatest generation."
Visitors are invited to explore the Collings Foundation "Wings of Freedom 2011 Tour" aircraft inside and out.  A donation of $6 for adults and $3 donation for children under age 12 is requested for access to up-close viewing and tours through the inside of the aircraft.  In addition to "Wings of Freedom" walk-through tour donations, standard Lyon Air Museum entrance fees apply.  Once visitors have paid to come into LAM, the additional cost to tour the plane is required.  WWII veterans get into the ground tours at no charge.  For all veterans, LAM offers a reduced admission rate of $6 per individual.
Visitors to the "Wings of Freedom 2011 Tour" may also experience a once-in-a-lifetime opportunity to actually take a 30-minute flight aboard these rare aircraft. Flight experiences are a tax-deductible donation.  Flights on either the B-17 or B-24 are $425 per person.  P-51 flights cost $2,200 for one half-hour and $3,200 for a full hour. For reservations and information on flight experiences, call 800/568-8924.
The "Wings of Freedom Tour" will arrive at John Wayne-Orange County Airport at 2 p.m. on May 6 and will be on display at LAM until the aircraft depart May 9 at 12 p.m.  Lyon Air Museum hours of operation, normally from 10 a.m. to 4 p.m. daily, will be adjusted during the three days of the tour.  The Museum will be open at 10 a.m. on Friday, May 6.  Hours of "Wings of Freedom" ground tours and display are: 2- 5 p.m. on Friday, May 6; 9 a.m. through 5 p.m. on Saturday, May 7; 9 a.m. through 5 p.m. on Sunday, May 8; and 9 a.m. through 12 p.m. on Monday, May 9. The 30-minute flight experiences are normally scheduled before and after the ground tour times indicated above.  Lyon Air Museum will close as per its normal schedule at 4 p.m. on Monday, May 9.
The Collings Foundation, based in Stow, Mass., is a 501c3 non-profit educational foundation devoted to organizing "living history" events that allow people to learn more about their heritage and history through direct participation. The nationwide "Wings of Freedom Tour" is in its 21st year and visits an average of 110 cities in more than 35 states annually. Since its start, tens of millions of people have seen the B-17, B-24 and P-51 exhibit at locations throughout the country.  The "Wings of Freedom Tour" travels the nation as a flying tribute to the flight crews who flew them, the ground crews who maintained them, the workers who built them, the soldiers, sailors and airmen they helped protect, and the citizens and families that share the freedom that they helped preserve.  Website: www.collingsfoundation.org
The 30,000-sq.ft. Lyon Air Museum opened in Dec. 2009.  The facility represents the fulfillment of a dream of Maj. Gen. William Lyon, USAF (Ret), who held the position of Chief of the U.S. Air Force Reserve from 1975 to 1979.  Currently, Gen. Lyon is Chairman of the Board and CEO of William Lyon Homes, Inc., Newport Beach, Calif.  His passion for aviation history and youth education is the driving force behind Lyon Air Museum.  In establishing the Museum, Gen. Lyon sought to create a world-class facility that would be available to the local community and would offer educational exhibits designed to inspire young people.  The Museum has on exhibit some of the world's rarest operational aircraft and vehicles.
Lyon Air Museum is located at 19300 Ike Jones Road, Santa Ana, CA  92707.  P: 714/210-4585.  F: 714/210-4588. Email: info@lyonairmuseum.org.
Web: www.lyonairmuseum.org.
Admission rates: General admission–$8; Seniors and Veterans–$6; Ages 5-17–$4; Under age 5—Free. Groups of 10 or more–$1 off each visitor.  Pre-arranged school groups—Free.
Media Contact: Ned Madden
Rodheim Marketing Group
949/547-0143