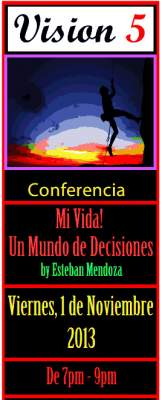 A Hispanic organization called Centro De Transformacion Total is hosting an event at the Delhi Center this Friday November 1, 2013 from 7 pm – 9 pm, called  "Mi Vida! Un Mundo de Decisiones." The speaker is Esteban Mendoza.  The cost to attend appears to be $20.
The Delhi Center is located at 505 E. Central Ave., in Santa Ana.  Contact Veronica Nguyen if you have any questions, or want to RSVP, at veronica@masterplanlife.com.
The mission of this organization is to support human beings in discovering their greatness by offering different workshops and leadership programs that utilize innovative teaching techniques to drive them to substitute restrictive beliefs for a path of infinite development and personal growth possibilities. Contribute with the awakening of human consciousness. Promote Love and Respect for life. Be, Do, Have.