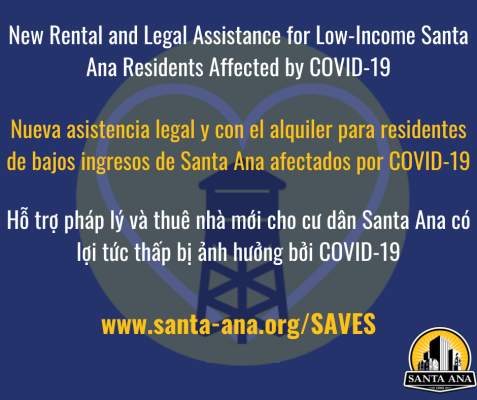 With the new Santa Ana SAVES eviction protection program, Santa Ana residents impacted by COVID-19 who are behind on rent and facing eviction can apply for up to 12 months' rent and receive free legal and mediation services.
Join us on Wednesday, Feb. 10, 2021, at 7 p.m. for a Zoom meeting where you can ask questions about the program. Another Zoom meeting will take place on Feb. 17.
Join Zoom Meeting
https://zoom.us/j/92280072121?pwd=SnZ4U1Zzdi9kV1V1N3k4QTB1bTNBdz09
Meeting ID: 922 8007 2121
Passcode: 711854
Learn more about Santa Ana SAVES: https://www.santa-ana.org/SAVES
Watch a previous Zoom Q&A meeting: https://www.youtube.com/watch?v=6Eny2ro8Efg&feature=youtu.be
For residents who do not qualify for the SAVES Program, one-time emergency rental assistance is still available at https://www.santa-ana.org/covid19/rental-relief/cares-for-tenants.