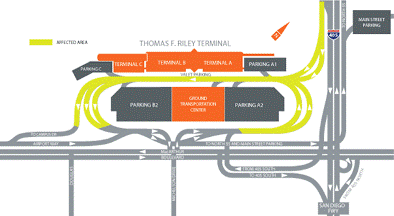 John Wayne Airport Construction Alert: May 21, 2012
For More Information, Contact: Jenny Wedge, (949) 252.5182, jwedge@ocair.com
LANE CLOSURES ON LOWER ROADWAYS – SEISMIC RETROFIT
WHAT:
A portion of the lower (arrival) level of the Airport roadway will be narrowed to allow for construction on the pillars reinforcing the upper (departure) level roadway. Portions of the white passenger pickup lanes and curb will be narrowed as well.
Drivers picking up passengers at the Airport are encouraged to utilize 2-hour parking spaces located on the lower level of Parking Structures A1, B2 and C – rather than the roadway – while waiting.
WHEN:
Effective Tuesday, May 22, 2012 through September 2012. The overall Seismic Retrofitting project is ongoing through December 2012.
WHY:
The roadway system at John Wayne Airport is undergoing seismic remediation to ensure all structural elements of the upper level roadway are current with the most stringent safety and seismic standards. The roadway pillars will also be "wrapped" according to the new Terminal A, B and C color schemes to better identify passenger pickup locations.
MORE INFO:
General Airport Information: 949.252.5200
Email: info@ocair.com
Web site: www.ocair.com
About John Wayne Airport:
John Wayne Airport (SNA) is owned by the County of Orange and is operated as a self-supporting enterprise that receives no general fund tax revenue. The Airport serves approximately nine million passengers annually, reaches more than 20 non-stop destinations in the United States and Canada and is served by eight commercial passenger airlines. More information can be found at www.ocair.com.
# # #