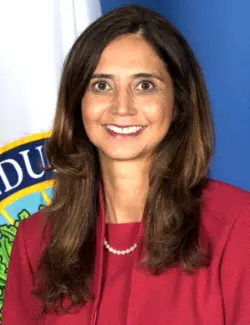 The Santa Ana Unified School District (SAUSD) is set to announce the selection of Thelma Meléndez de Santa Ana, the Assistant Secretary for Elementary and Secondary Education at the U.S. Department of Education, this Friday, July 15, at the SAUSD's headquarters, at 3 pm, according to an insider at the district.
If true, this looks like a fantastic replacement for retired SAUSD Superintendent Jane Russo, whose tenure was marred by corruption, questionable expenditures and results that left many kids out in the cold.
Meléndez de Santa Ana is the chief federal official for K-12 education.  She empathizes easily with students who face difficulties in school, according to allgov.com. Born in 1958 to Mexican immigrants, Dr. Thelma Meléndez de Santa Ana arrived at kindergarten unable to speak or read English, and found the daunting task of learning her new language complicated by ostracism from her Anglo classmates.
But Meléndez de Santa Ana prevailed – eventually graduating with a B.A. in Sociology from UCLA in 1981 and a Ph.D. in language, literacy and learning from the Rossier School of Education at USC in 1995.
Here is Meléndez de Santa Ana's official bio, from the U.S. Department of Education:
Thelma Meléndez de Santa Ana was confirmed as assistant secretary for elementary and secondary education at the Department of Education by the U.S. Senate on July 24, 2009. In this position, she plays a pivotal role in policy and management issues affecting elementary and secondary education. She directs, coordinates and recommends policy for programs designed to assist state and local education agencies with improving the achievement of elementary and secondary school students. She helps ensure equal access to services leading to such improvement for all children, particularly children who are economically disadvantaged. She fosters educational improvement at the state and local levels, and provides financial assistance to local education agencies whose local revenues are affected by federal activities. She also serves as the principal adviser to the U.S. secretary of education on all matters related to pre-k, elementary and secondary education.
Prior to arriving at the Department, Meléndez served as superintendent of the Pomona Unified School District (Calif.), since 2006.During her tenure in this very diverse district serving 31,000 students, three-quarters of whom were eligible for free or reduced-price lunch and 44 percent of whom were English language learners, she oversaw district-wide gains in student achievement, particularly for English Language Learners and African American students. In 2007, two high schools in the district were ranked by U.S. News & World Report as among America's top 500 high schools out of 18,000 nationwide. Meléndez also designed and launched innovative schools and programming during her tenure, including a mathematics and science magnet school, a charter school for grades 7 through 12 at-risk students, a health sciences and an engineering academy, and a partnership with California Polytechnic University, among other universities, to create a health career pathway. In 2009, her success as an education leader was recognized by the American Association of School Administrators, which voted her California Superintendent of the Year.
From 2005 to 2006, Meléndez worked on district-level reform in her position as program manager at the nonprofit Stupski Foundation. Here, she focused on creating high-performance learning organizations to raise student achievement and close achievement gaps. Her portfolio included the 23,000-student Pasadena (Calif.) School District and the 40,000-student Illinois School District U-46. She also served on the foundation's Executive Leadership Team.
From 1999 to 2005, Meléndez served as deputy and assistant superintendent and chief academic officer at Pomona Unified, where she redesigned instructional services to increase student achievement and support to school sites. In these positions, she achieved a 50-percent decrease in the number of low-achieving schools as measured by California accountability standards. She was also directly responsible for the three highest increases in the Academic Proficiency Index (API) in the district's history and, in 2002, the district achieved the third-highest API in all of California.
Prior to her work at Pomona Unified, Meléndez was director of school-family initiatives at the Los Angeles Annenberg Metropolitan Project, where she oversaw grants for the Annenberg Foundation and implemented schoolwide accountability reform in 15 Los Angeles County school districts. From 1992 to 1997, she served as an educator in the Montebello and Pasadena Unified School districts, assuming the positions of director of instruction, principal, assistant principal and teacher. And from 1990 to 2002, she served in various faculty positions at universities in California.
Meléndez has been recognized frequently for her educational leadership. In 2010, she was named Hispanic Business Magazine's Woman of the Year. In 2007, she was named Latina of Excellence, a national honor accorded to six Latinas "of great distinction in their fields" by Hispanic Magazine, receiving the Educationalist award. In 2006, Meléndez was selected to be a Fellow in the Broad Superintendents Academy, a national honor awarded to 18 "outstanding, dynamic, entrepreneurial" public school leaders. In 2005, she was recognized as an Outstanding K-12 School Leader & Distinguished Partner for Educational Excellence by California State Polytechnic University at Pomona. And, in 2003, she was named Outstanding Educator of the Year by the Los Angeles County Bilingual Directors Association.
Meléndez earned her Ph.D. from the University of Southern California, where she was in the Rossier School of Education program specializing in language, literacy and learning. She earned a bachelor's degree cum laude in sociology from the University of California at Los Angeles. She is married to Otto Santa Ana, a professor in the Department of Chicano Studies at UCLA.